Paramount's Kung Fu Panda 2 bares its claws in the UK, grossing £6.2m on debut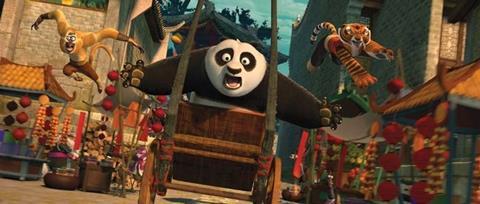 Animation-comedy Kung Fu Panda 2 entered the chart in first place, taking £6.2m from 514 screens at an excellent average of £12,041.
Panda took £3.1m of its total from 495 screenings over five preview days, but would still have finished top without the bonus haul.
However, the first in the franchise took £6.1m from 68 fewer screens in 2008 and didn't have 3D revenues to fall back on.
Warner Bros' The Hangover Part II took a commendable £2.8m in its third week, a drop of only 28%. Todd Phillips' sequel has now taken £26.5m and ranks as the eighth biggest film of the last 12 months in the UK.
X-Men: First Classsaw the biggest drop-off among films in the top ten at -56%, corralling £2.4m during its holdover. The film's cumulative of £10m is £2m less than X-Men Origins: Wolverine had taken by its second week.
Disney's money-spinner Pirates Of The Caribbean: On Stranger Tides continued to perform solidly, taking a further $1.6m from 475 screens in its fourth week. Pirates has taken £29.5m and currently ranks one place ahead of The Hangover among best performers of the last 12 months.
Universal's musical-romance Honey 2 was the higher of two disappointing top-ten debuts, with the sequel taking £520,654 from 301 screens at an average of £1,730 (the original Honey starring Jessica Alba went on to take £3.2m in 2003, a feat well beyond the sequel), while Optimum's thriller Mother's Day took an equally unimpressive £94,385 from 79 screens at an average of £1,195.
The latter was outperformed by two impressive holdovers; seventh-placed documentary Senna made a further £408,493 for an excellent £1.1m – among the best documentary hauls in recent years – and Eros' Ready, which took £114,878 for £492,938, making it one of the best-performing Bollywood titles of the year.
Omniverse's 12-th placed concert doc JLS: Eyes Wide Open 3D struggled in its second week, dropping a hefty 91%. The film scored only £43,259 in 179 screens for a top-20 screen average low of £220. However, thanks to its impressive opening the film has still grossed £510,011.
The only other top 20 debuts came from Vertigo's thriller Point Blank, which opened in 13th on £43,021 and Artificial Eye's 20-th placed Kaboom on £24,707 from only 15 screens.
This week sees another blockbuster enter the fray in the shape of Warner Bros' Green Lantern. Sony offers strong counter-programming with comedy Bad Teacher while there are wide releases for Icon's The Beaver and Metrodome's Stake Land.