Dir/scr: Guido Lombardi. Italy. 2011. 99mins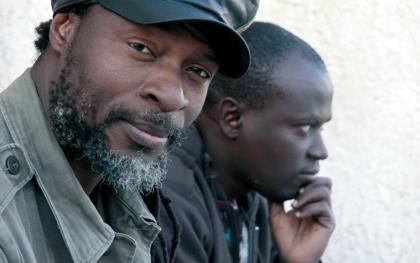 Though Emanuele Crialese's competition contender (and eventual Special Jury Prize winner) Terraferma stirred up a dutiful debate at this year's Venice Festival about Italy's illegal immigrants, it was another, much lower budget film, Guido Lombardi's Critics Week selection La-bas, that really got under the skin of the issue. A deserved winner of the Leone del Futuro award for best first feature, La-bas builds a compelling insider drama of life on the African fringes of Naples around a vicious, true-life 2008 Camorra massacre of six immigrants in the town of Castel Volturno.
Lombardi elicits bracingly real performances from his cast.
After the film's Leone del Futuro win, Cinecittà Luce came on board as Italian distributor. The film is still without an international sales company, though it can only be a matter of time before one steps up. The mostly French dialogue (mixed in with passages of Italian and English) should boost its prospects in Francophone territories.
Scripted with the collaboration of the immigrant communities depicted in the film, La-bas focuses on Yssouf (Alassane), a young West African newly arrived in Castel Volturno, a depressed town of jerry-built houses in the tomato-growing belt north of Naples. Pre-film captions have already informed us that the town and its outlying suburbs are home to 20,000 African migrants – half of them illegals.
Yssouf has one contact in the area – an uncle, who has promised to help further his nephew's artistic ambitions (Yssouf sculpts small iron figures, and is hoping to save up to buy a machine that can translate his sketches into finished works). Unable at first to track down his uncle, Yssouf is adopted by Germain (Faye), a genial grifter who makes a living selling pocket tissues at traffic lights.
He flirts with pretty, provocative Suad (Elisha), who naturally turns out to be a hooker, and is given somewhere to stay by dreadlocked Idris (Doulougou) who presides over a sort of migrant worker hostel and is firm in his opposition to the area's other main cash crop – drugs. So when Yssouf finally links up with uncle Moses (Mone), it doesn't come as a huge surprise to discover that Moses' comfortable lifestyle is founded on drug dealing.
There may be something a little schematic about the set-up of Yssouf's moral dilemma – whether he should begin working for uncle Moses in the drug trade in order to get rich quick and launch his artistic career. But as in the best of Paul Laverty's scripts for Ken Loach, any over-obvious conflict lines on the film's narrative graph are disguised by a real feel for succinct, powerful cinematic storytelling. Only in the final third does the moral thrust of the story sometimes lose its way in details of alliances between African drug lords and the local Neapolitan camorra.
Although some of the handheld digital camerawork is borderline quality for theatrical distribution, other scenes demonstrate a sure instinct for location and composition – like a courtship scene between Yssouf and Suad set amidst the crumbling flumes of an abandoned water-park (the irony is ramped up by the fact that the two get drunk on the ultimate Neapolitan tourist cliché liqueur, limoncello). Lombardi elicits bracingly real performances from his cast, especially Yssouf and Moses, neither of whom have acted before. And Giordano Corapi's soundtrack, weaving in and out as the film itself does between African and Italian influences, with some walking-bass blues thrown in for good measure, helps to keep us engaged even when the final darkness descends.
Production companies: Eskimo, Figli del Bronx, Minerva Pictures Group
Italian distribution: Cinecittà Luce
International sales: contact Gianluca Curti, Minerva Pictures, www.minervapictures.com
Producers: Dario Formisano, Gaetano di Vaio, Pietro Pizzimento, Gianluca Curti
Cinematography: Francesca Amitrano
Editors: Annalisa Forgione, Beppe Leonetti
Production designer: Maica Rotondo
Music: Giordano Corapi
Main cast: Kader Alassane, Moussa Mone, Esther Elisha, Billi Serigne Faye, Alassane Doulougou, Fatima Traore