Dir: Kaz I Kiriya. US. 2014. 115mins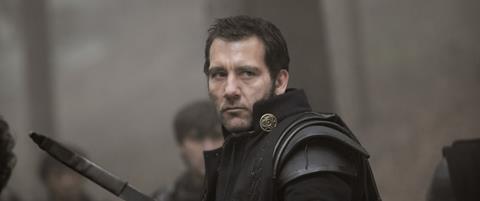 Swords, crossbows, decapitations, curt dialogue grimly spoken, themes of honour and revenge: Last Knights is little more than a dutifully compiled collection of genre conventions, its tale of a group of brave knights seeking vengeance for their fallen leader so undemanding that it's almost charmingly pedestrian. Anchored by a grave performance from Clive Owen, director Kaz I Kiriya's action-adventure yarn has the threadbare effects and ho-hum storyline familiar to straight-to-video offerings. Still, there are some mild pleasures to be had from the movie's no-nonsense, just-get-the-job-done approach.
With his haunted eyes and gravelly voice, Owen makes for an immensely believable knight, burdened by the guilt of what he's done but determined to make it right
Releasing in the States on April 3 (both theatrically and VOD), Last Knights will get a little mileage out of Owen's name value, although those looking forward to co-star Morgan Freeman's presence should be advised that he doesn't stick around too long. Fans of medieval action sans dragons and witches might give Last Knights a try, but considering that the film opens the same weekend as the sure blockbuster Furious 7, don't expect much commercial magic.
Written by Michael Konyves and Dove Sussman, the film stars Owen as Commander Raiden, loyal retainer to Bartok (Freeman), a wise, dying leader resistant to the tyrannical dealings of the emperor (Payman Maadi). After Bartok crosses the emperor, though, his second-in-command Geza Mott (Aksel Hennie) advises the emperor to make an example of Bartok. Condemned to death, Bartok orders Raiden to take his life in front of the emperor and Geza, an order that the fiercely obedient Raiden reluctantly follows.
Last Knights then jumps in time to a year later as the emperor and Geza are consolidating their power and Bartok's legions are crumbling. (Raiden, a former drunk, has been hitting the bottle since slaying his master.) But Kiriya (Goemon) isn't planning on leaving the kingdom in tatters. Eventually, Raiden and his men will hit back at those who brought down Bartok.
With his haunted eyes and gravelly voice, Owen makes for an immensely believable knight, burdened by the guilt of what he's done but determined to make it right. But like most everything in Last Knights, Raiden is just a generic placeholder, a blah action-adventure type in which the filmmakers decided not to invest much creative ingenuity.
It's, frankly, shocking how straightforward Kiriya's treatment of this material is: Even the reveal of Raiden's plan to take down Geza, the film's true villain, is impressively unsurprising, no matter the occasionally crafty little twist included. In place of a fresh take on medieval knights battling for honour and glory, Last Knights digs into the story's charcoal glumness. It's either snowing or overcast in just about every scene, and the film's grey-blue colour palette matches the monochromatic performances and one-note characters. In the world of Last Knights, everything is so bleak that apparently nobody worries about being as dull as cardboard. (Playing the bratty Geza, Hennie is boringly snivelling, unable to muster sufficient boo-hiss animosity from the audience.)
And yet, there is a kind of integrity to Kiriya and Owen's commitment to delivering this revenge tale with a minimum of fuss. Taking a cue from Freeman's serene turn as Bartok, Owen channels the grizzled-antihero persona he's mastered in movies as varied as Croupier and Children Of Men. Likewise, Cliff Curtis has the right amount of rugged stoicism as Raiden's confidante. As for the battle sequences, Kiriya and editor Sanger give them a professional propulsion that's never flashy or egregiously violent. (The muscular, rote hand-to-hand fights help distract from some painfully subpar effects work elsewhere. Falling snow has rarely looked so phony.) Last Knights isn't inspired at all, but as disposable genre product it's probably better than it needs to be.
Production companies: Grindstone Entertainment Group, Luka Productions, Union Investment Partners, Timewise Investment, DMM.com
US distribution: Lionsgate, www.lionsgate.com
International sales: Arclight Films, www.arclightfilms.com
Producers: Luci Kim, Kaz I Kiriya
Executive producers: Kate Hong, Lee Jea Woo, Choi Pyung Ho, Keishi Kameyama, Hiroshi Matsumura, Kang Yeong Shin, Andrew Mann, Jim Thompson, Yong Kook (YK) Bae, Russell Levine, Chip Diggins, Jay Stern, Barry Brooker, Stan Wertlieb, Nick Thurlow, Gary Hamilton
Screenplay: Michael Konyves and Dove Sussman
Cinematography: Antonio Riestra
Production design: Ricky Eyres
Editor: Mark Sanger
Music: Martin Tillmann, Satnam Ramgotra
Website: www.facebook.com/lastknightsmovie
Main Cast: Clive Owen, Cliff Curtis, Aksel Hennie, Payman Maadi, Ayelet Zurer, Shohreh Aghdashloo, Sung Ki Ahn, Morgan Freeman