Producer Laura Bickford and writer-director Nicholas Jarecki talk to Jeremy Kay about making $15m suspense drama Arbitrage, starring Richard Gere, which is generating buzz at Sundance.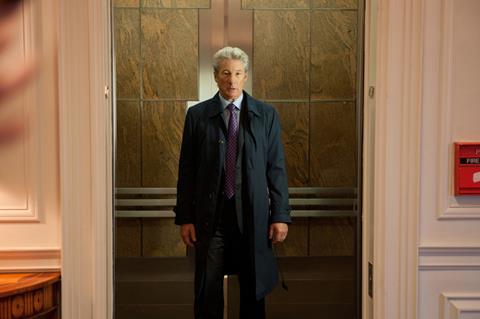 The wave of interest from domestic buyers that has engulfed the Premieres selection Arbitrage is fitting reward for the $15m suspense drama starring Richard Gere as a New York fund manager who faces personal and financial ruin. Producers Laura Bickford, Kevin Turen, Justin Nappi and Bob Salerno had to deal with the eleventh-hour withdrawal of an equity financier and overcome natural reservations associated with a first-time director.
Bickford and writer-director Nicholas Jarecki tell Jeremy Kay why shooting in New York was preferable to New Orleans, how they secured a rare on-screen cameo by Vanity Fair editor Graydon Carter and the benefits of friends in high places when visiting an inn owned by Richard Gere. Parlay Films handles international sales and WME Global represents domestic rights. Executive producers are Brian Young, Mohammed Al Turki, Lisa Wilson, Stanislaw Tyczynski and Ron Curtis.
So how did Arbitrage come together?
Nicholas Jarecki: I always wanted to direct. I made a film with James Toback [Jarecki was executive producer on Tyson] and I love the cinema of the '70s and the muscular, explosive films of Scorsese and Friedkin. I wanted to make something beautiful and slick but also something gritty with depth and emotionality to it. In 2008/09 I was reading a lot of books about the financial crisis and it was a world I knew something about because both my parents were traders. The character of Robert Miller is an extreme one and he was my entry point.
Laura Bickford: I met Nicholas when he'd just finished the first draft. A real challenge for a first-time director is it's tough to get cast for obvious reasons. I liked him and said I'd help find cast. It's always a chicken-and-egg scenario when you want to get a piece of equity to go after your cast and yet the cast wants to know the money is there before they commit.
You got Parlay on board for international sales and Union bank cash-flowed the sales estimates and tax credits. What about the equity piece?
Bickford: We thought we had the equity pending cast and when we went to the cast we knew what our budget parameters were and the value of foreign territories. But then the equity fell through and we had to replace it very quickly. This was in December 2010 and we were ready to shoot in spring. We needed an equity piece. I found half the equity, Kevin got a quarter of it and Nicholas got a quarter. So we found these investors after asking everybody we knew. We approached about 300 people and ended up with our adorable executive producers.
Why did you want Gere for the role of Robert Miller and how did you secure his services?
Bickford: We sent the script out to the agencies and it landed in the hands of Gere's agent. Richard is rarely in LA but he happened to be there and was getting on a plane back to New York. He read it and his agent called Nicholas the next day. Richard owns an inn in upstate New York and invited Nicholas up to meet him there.
Jarecki: I went to his hotel and we sat down for three hours and he said, 'Good news – great script; bad news – first-time director.' So we talked it out and started to feel good about it. He asked what I wanted to explore and he stood up and grabbed me and threw me against the wall and fixed me with that piercing stare. I said, 'I would kiss you now' and we laughed about it and the collaboration began there.
Bickford: I got a call from Richard's agent saying, 'OK the director's crazy, but good crazy, so now I need to meet the grown-ups in the room.' So Bob Salerno and I went to meet Richard at his inn. We had a really frank conversation about what it would take to do this and then we shook hands. Michael Douglas and Catherine Zeta-Jones happened to come to the inn for lunch. I knew them from producing Traffic and I couldn't have paid them to come in at a better time and reassure Richard to make the movie.
Is Miller based on Bernie Madoff?
Jarecki: There's a parallel, but… I read something he said in prison. He said, 'Fuck my victims. I carried them for 20 years, and now I'm doing 150 years.' I didn't want that. I wanted more of a goodly king but one who's read too many of his press releases and whose head has swelled and he's become selfish.
Production began in spring 2011 and wrapped June 1. Why was it important to shoot in New York?
Bickford: The reason the first equity piece fell apart was the investors felt New York was too expensive and wanted it to take place in New Orleans where you get a higher tax rebate. But Nicholas and Kevin and I all grew up in New York and we wanted the story to take place there. It would have been terrible in New Orleans. So many of the locations are important to the story like Caprice, The Four Seasons and the GM building, where we situate Richard's office.
How did you get Graydon Carter?
Bickford: One of the things Nicholas was reading for his research was The Great Hangover, a compilation of Vanity Fair articles that Graydon commissioned about the financial crisis. Graydon and I produced Chicago 10 together, which screened at Sundance in 2007. So I asked him and thought he'd be perfect for the part of Mayfield [a business rival]. We needed someone with that authority.
Tell us about the look and tone of the film
Jarecki: I didn't want to be didactic; I wasn't making a big, bold statement; I was exploring a personal theme and looking at power and money. I got this brilliant DP Yorick Le Saux [I Am Love, Carlos] and we wanted to create a golden, rich environment so it would contrast with the darker moments. He told me as we shot that I'd find my voice. I realise I'm a classicist. I love Inarritu etc, but I don't think I could do that. I like to keep the camera moving. I like fluid camera movement that gives you that emotionality in a way that is aesthetically pleasing.