Laura Poitras' Citizenfour, the remarkable documentary about NSA whistleblower Edward Snowden, had its UK premiere at the BFI London Film Festival last night, in an event that was broadcast live to 70 cinemas across the UK.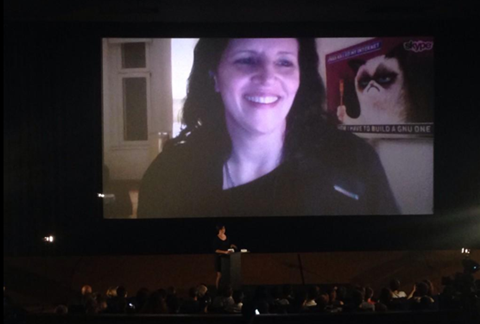 The film screens again at LFF tomorrow and then also has a DocHouse special preview at the ICA on Oct 28, followed by the Britdoc/Artificial Eye theatrical release at the Curzon Mayfair, Curzon Victoria, hmvcurzon Wimbledon, and ICA on Oct 31. It also opens at the Glasgow Film Theatre on Nov 3.
Poitras was advised by her legal team not to travel to the UK for the screening because she could be arrested under the terrorism act (a fact that Guardian journalist Ewen MacAskill called "disgraceful" for the UK).
Poitras instead Skyped in from her home in Berlin (with a Grumpy Cat-inspired painting shown in the background). Though the Skype cut out several times, Poitras did say a number of thanks and answered a few audience questions from London. "This was a film done really under the radar, so everyone who supported it took enormous risks," she said. She singled out Jess Search and the team at Britdoc as key supporters – "without their work I would not have been able to make this film."
Citizenfour opens with a note that this is the last part in Poitras' trilogy about post-9/11 America. In 2004 she started making Iraq war story My Country, My Country "not knowing it would be a trilogy. I thought the US would take a different course. I didn't think we'd still be on the path we're on."
She then made the second film in the trilogy, 2010's The Oath, about men in Guantanamo Bay.
"I wanted the final part to take the series home," she said, revealing that she started this project with a film about surveillance in general – before Snowden entered her life.
"In 2006 I was put on a watchlist, I was being monitored every time I came into the US. I became personally aware to the danger and threats it [surveillance] post to everyone, and especially for me as a journalist."
The surveillance film included extensive interviews with Julian Assange about Wikileaks, and other experts. She says when the Snowden story happened there were "a lot of themes we were working on are similar," but yet "we realized while we were cutting that we had two films…that other film is what I'll do next."
Poitras recalled the experience of being contacted by the then-anonymous "Citizenfour," who would be revealed as Snowden.
"The first emails were brief. I kind of approached it a little suspiciously at first. But when he said, 'I work in the intelligence community and it won't be a waste of your time,' it sounded legitimate. But I also wanted to make sure it wasn't some kind of set-up or entrapment…When I saw the information, I thought, 'This is potentially huge and it's going to anger the most powerful people in the world."
She explained the decision to film Snowden almost immediately after he met her and Guardian journalist Glenn Greenwald in a hotel in Hong Kong. "At first, I thought it would be an anonymous source and I didn't think I'd ever meet this person." But then Snowden said he expected to make his name public at some point. "I said, 'If you're going to come forward, then we need to meet and need to film."
Snowden said he "didn't want to be the story," but she said to him, "your motivation does matter, I want to know it and I think the world wants to know it." She recalled, "my role there was to document. I started filming pretty quickly…It's important to remember there was a lot of risk. We figured we were pretty deep in at that point, so I figured why not document it?"
An audience member at LFF asked Poitras about the "second whistleblower" whose information is shown at the end of Citizenfour. "I'm not going to say much about that," she said. "But it's ongoing reporting that we are doing."