Sony's Django Unchained failed to take down Universal's musical epic, which recorded a second straight week at number one.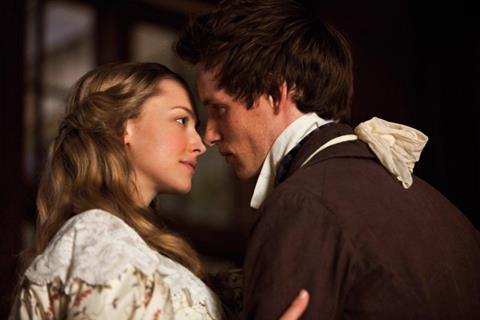 In spite of the snow, Universal's Les Misérables enjoyed a strong second weekend at the UK box office, holding off newcomer Django Unchained with a $7m (£4.4m) second weekend.
Tom Hooper's adaptation of the much-loved musical is now up to $27.6m (£17.4m) after two weeks in play, but it still has some way to go to catch up with the most successful musical in UK box office history, Mamma Mia!, which reached a mammoth $108.8m (£68.5m).
In terms of other musicals though, it has already overtaken the likes of Chicago ($26.1m/£16.4m), Hairspray ($20.3m/£12.8m) and Sweeney Todd ($17.6m/£11.1m).
The week's highest new entry belonged to Sony's Django Unchained, which charted second thanks to a healthy $4.4m (£2.8m) debut.
In terms of Quentin Tarantino's openings at the UK box office, Django Unchained is behind his current best Inglourious Basterds, which took $5.7m (£3.6m) yet did enjoy four days of previews and is on par with Kill Bill Vol 2, which took $4.4m (£2.8m).
Despite dropping a place to third, Fox' Life of Pi continued its excellent run in the UK.
Ang Lee's adaptation of Yann Martel's Man Booker Prize winning novel grossed a further $2m (£1.3m) for a running total of $38.3m (£24.1m) to date.
eOne's The Impossible is still going strong in its third weekend, recording the lowest drop of any of the top 15 with a $1.7m (£1.1m) weekend. JA Bayona's tsunami drama has now taken an impressive $14.5m (£9.1m) in the UK.
Falling 57% in its second weekend was Warner Bros' Gangster Squad, which is now director Ruben Fleischer' strongest UK performance at $6.2m (£3.9m) following a $1.3m (£790,000) weekend.
Also for Warner Bros, The Hobbit: An Unexpected Journey added an additional $1.2m (£764,000) for $79.4m (£49.99m) so far and will cross the £50m barrier today.
Dustin Hoffman's directorial debut Quartet is now up to $9.4m (£5.9m) in the UK after a $564,000 (£355,152) weekend through Momentum.
Paramount's Jack Reacher added $334,000 (£210,593) to cross the £9m mark and currently stands at $14.5m (£9.1m), while Rise of the Guardians has reached $18.6m (£11.7m).
Lionsgate's Texas Chainsaw 3D is up to $2.8m (£1.8m) after it fell heavily in its second weekend by 72%.
This week sees saturation releases for Lionsgate's The Last Stand (which will be hoping to improve on its weak $6.9m US opening), Fox's Lincoln, Momentum's Movie 43 and Sony's Zero Dark Thirty. Disney's Won't Back Down receives a wide release, while Omniverse's I Am and Revolver's The Liability are among the films receiving a limited release.