Universal's musical grosses $6.3m (£4m) on its third weekend to retain top spot; Fox's Lincoln records best debut of newcomers at $2.8m (£1.7m).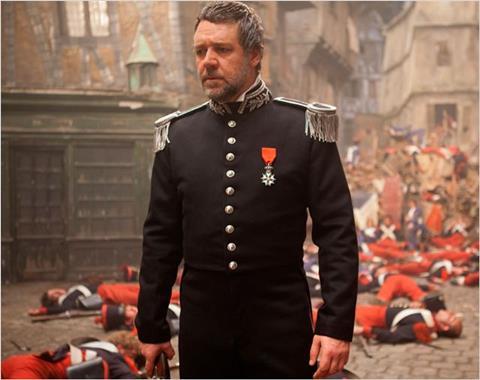 It seems everyone wants an encore. Universal's Les Misérables has recorded a third straight week at number one in the UK after an excellent hold in its third weekend.
Tom Hooper's ambitious take on the much-loved musical sung its way to a further $6.3m (£4m) for a formidable tally of $38.7m (£24.6m) after 17 days in play. It is now the second biggest musical in UK box office history, behind Universal's own Mamma Mia!'s mighty $107.9m (£68.5m) haul.
While it might seem unlikely that Les Misérables can match that feat, it's interesting to note that its third weekend running total is on par with that of Mamma Mia! which stood at $38.7m (£24.6m) at the same stage, and Les Misérables has achieved a higher third weekend than Mamma Mia! (£3.9m to £2.8m).
The ABBA musical did go on to record a whopping ten weekends of over £1m though, so Les Misérables has some way to go yet. Whether it catches it or not though, there's little doubt that Hooper has delivered another UK hit, following the $72m (£45.7m) success of The King's Speech.
It was a familiar picture at the top of the chart with Sony's Django Unchained holding onto second spot for the second consecutive week.
Quentin Tarantino's latest opus enjoyed a strong hold, falling just 16% on its way to an estimated $3.8m (£2.4m) for $11.2m (£7.1m) after ten days in play. It has now overtaken Jackie Brown ($10.4m/£6.6m) to become Tarantino's fifth best performer in the UK, with Kill Bill Vol 2 ($14.4m/£9.2m) the next title in its sights.
This week's highest new entry came in the form of Fox's awards frontrunner Lincoln, which grossed a non-final $2.8m (£1.7m) to chart third.
While not noteworthy in the context of director Steven Spielberg's other UK debuts, Lincoln's debut did manage to overhaul the entire UK runs of recent biopics of key US figures: Clint Eastwood's J. Edgar ($1.7m/£1.1m) and Oliver Stone's W. ($1.9m/£1.2m).
It is worth noting though that both of these received smaller releases, opening on 259 (J. Edgar) and 235 (W.) sites compared to Lincoln's 511.
Falling one place to fourth was Fox's other awards contender Life of Pi which floated its way to an additional $1.8m (£1.1m) in its sixth weekend, a stunning drop of just 6%. Ang Lee's adaptation of Yann Martel's Man Booker Prize winning novel has now grossed a majestic $40.7m (£25.9m) in the UK.
Rounding off this week's top five was Universal's Zero Dark Thirty which achieved a solid $1.64m (£1.04m) debut from its 433 sites. That result marks director Kathryn Bigelow's best-ever UK debut, toppling the $1.2m (£773,936) recorded by Point Break in 1991, which also went on to become Bigelow's best-ever UK performer at $6.4m (£4m).
Narrowly behind Zero Dark Thirty was eOne's The Impossible which recorded just an 8% drop in its fourth weekend, adding $1.58m (£1.005m) to cross the £10m mark in the UK. JA Bayona's tsunami-set drama has now grossed a highly impressive $16.9m (£10.8m).
In spite of not screening in advance for critics, Momentum's comedy anthology Movie 43 recorded a sturdy debut in the UK with a $1.2m (£787,453) result from 275 sites. That's ahead of its expected debut based on its US debut of $5m, which would have meant an expected £500k UK debut.
Also for Momentum, Dustin Hoffman's directorial debut Quartet is up to $10.5m (£6.7m), following a $417,000 (£265,151) weekend with a few sites still to report.
For Warner Bros, The Hobbit: An Unexpected Journey has crossed the £50m mark and is up to $80.3m (£51m), while Gangster Squad has grossed $7.5m (£4.8m) to date.
The return of Arnie wasn't enough for Lionsgate's The Last Stand as it recorded a disappointing UK debut to go with its under-par US performance, debuting with $848,000 (£538,867), including previews of $131,000 (£83,249), from its 357 sites.
How well Sly's Bullet to the Head performs when it opens this week will indicate whether The Last Stand's performance is down to a lack of excitement in Arnie's solo return to the big screen, or a recent general apathy towards action films in the UK especially in the wake of The Expendables 2's soft performance last August.
This week sees saturation releases for eOne's Bullet to the Head and Paramount's Flight. Paramount's Cirque du Soleil: World's Away and Universal's Hyde Park on Hudson receive wide releases, while Momentum's Antiviral and Soda's Bullhead are among the films receiving a limited release.