Dir/scr: Sangeeta Datta. UK. 2010. 120mins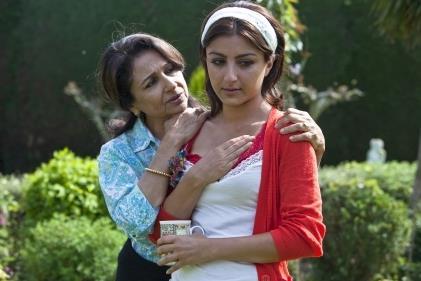 The shadow of Shakespeare's King Lear hangs over Sangeeta Datta's nicely made drama Life Goes On about an affluent British/Indian family that has to deal with the death of a beloved wife/mother and the impact on those left behind.
Life Goes On is at its best when showing how a modern-day British/Indian family functions.
When the saintly Manju (Sharmila Tagore) unexpectedly dies from a major attack, she leaves her doctor husband Sanjay Bannerjee (Girish Karnad) and three daughters, Lolita (Mukulika Banerjee), Tulika (Neerja Naik) and Dia (Soha Ali Khan), all of whom struggle to comes to terms of their loss and on how they now view life and each other.
Over the five days leading up to the funeral the three daughters argue and make –up and all dwell on their relationship with their mother, while Sanjay gets increasingly confused and angry as he tries to deal with both the loss and revelations about his daughters' modern lives (one has a Muslim boyfriend, one a white husband and the other in a lesbian relationship).
He is forced to face his demons, his trauma over the partition of India when he was a child and try and come to terms with his old and unspoken prejudice about Muslins. One night he strides out of the family house and walks the streets of London alone and confused.
The films works well in moments, though it fails to engage when revelling in clichéd romantic moments (such as when Dita and her Muslin boyfriend dance through a flowery field) and at a running time of two hours is just too long for its own good. Veteran performer Om Puri makes the strongest impact as Alok Tripathi, an old family friend who also has his own secrets in terms of his relationship with Manju.
Life Goes On is at its best when showing how a modern-day British/Indian family functions given the balance of old lives and traditions against contemporary desires, but frustratingly lapses into mawkish and simplistic sentimentality as an easy option to make it traditional and acceptable.
Production company: SD Films, Stormglass Productions
Executive producers: Gautami Trivdei, Sandeep Patel
Cinematography: Robert Shacklady, Avik Mukhopadhyay
Editor: Arghyakamal Mitra
Music: Soumik Datta
Website: www.facebook.com/LifeGoesOnFilm
Main cast: Om Puri, Sharmila Tagore, Girish Karnad, Soha Ali Khan, Roz Kempton, Neerja Naik, Mukulika Banerjee, Steph Patten, Christopher Hatherall