Dir: Steven Spielberg. US. 2012. 150mins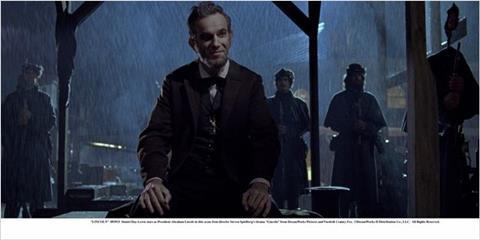 An engrossing, intelligent drama built around a seemingly dry piece of US congressional history — the political machinations that led to the passage of the 13th amendment, which abolished slavery — Lincoln is a stirring portrait of Abraham Lincoln but, perhaps more importantly, is a quietly compelling look into the nitty-gritty process of democratic government. Elevated by a marvellous performance from Daniel Day-Lewis as America's 16th (and, arguably, most beloved) president, this passion project from director Steven Spielberg suffers from his occasional tendency to indulge in sentimentality, but on the whole this confident, well-crafted film rewards viewers who are willing to be patient with its deliberate pace, which slowly builds in dramatic and emotional intensity.
Lincoln doesn't try to offer a definitive portrait of the man's motivations and psychological makeup, and in fact Day-Lewis's performance is intentionally withdrawn, keeping this celebrated president still something of a mystery.
Opening in limited release on November 9 before expanding the following weekend, Lincoln will benefit from Day-Lewis and Spielberg's names, not to mention the nation's ongoing fascination with Lincoln, an iconic figure who has been dead for almost 150 years. But while the movie is set during the Civil War, this is by no means a conventional war film. (Indeed, Lincoln's storyline pays little attention to the battlefield and instead is concerned with the president's attempts to corral enough votes for his constitutional amendment.) As far as international grosses are concerned, the question may be just how much overseas audiences will be interested in a critical, but by no means sexy, moment in American history. Nonetheless, awards attention and positive reviews for Day-Lewis will make Lincoln an Oscar player, if not necessarily a rousing box office success.
Inspired in part by Team Of Rivals: The Political Genius Of Abraham Lincoln, the acclaimed biography from historian Doris Kearns Goodwin, Lincoln is set in 1865 in the months before the president's assassination. The US Civil War has been waging for four years, and Lincoln (Day-Lewis) is hoping to pass an amendment through the House of Representatives that will end slavery. Aided by his loyal Secretary of State, William Seward (David Strathairn), and Congressman Thaddeus Stevens (Tommy Lee Jones), a tireless abolitionist, Lincoln looks to find enough votes from the rival political party to make the amendment law, but it will take a great amount of convincing and cajoling if the president is to succeed.
Lincoln differs from the traditional biopic in that rather than focusing on a famous person's whole life, the movie concentrates mostly on one pivotal month. Additionally, the famous man's life is merely part of a larger historical moment. Consequently, the film is more of an ensemble piece, although Day-Lewis definitely dominates the centre of it.
By now, it should be no surprise when Day-Lewis, a two-time Best Actor Oscar winner, gives a commanding performance, but nevertheless his Lincoln is particularly inspired. In this actor's hands, the president is a soft-spoken, somewhat awkward, funny man — someone who projects an aura of calm confidence that's especially reassuring amidst the agony of the Civil War and the tension surrounding the fate of his amendment. Considering that Lincoln is such a mythic, revered figure, hailed for his smarts and his elegant writings, Day-Lewis has done a wondrous job of stripping away the president's legend and instead presenting him as simply a man.
This onscreen Lincoln has a serenity about him, but Spielberg and Day-Lewis aren't interested in canonising him; indeed, there's a rugged directness in the actor's performance that makes the president present in a way that gives the film a welcome urgency.
Fans of the TV drama The West Wing may well appreciate the political manoeuvrings that form the backbone of Lincoln, but at first these sorts of talky backroom dealings would seem to run counter to the kinetic filmmaking style of Spielberg, who has wanted to make this film for more than 10 years. (Even his dramas like Schindler's List were more inherently compelling visually, while Amistad benefited from a traditional courtroom-drama structure.) But while Spielberg sometimes oversells the emotional resonance of important steps along the way to the amendment's passing — cued, as usual, by his long-time composer, John Williams — Lincoln nicely demonstrates how the minutiae of democracy can be thrilling, focusing on the disparate personalities on both sides of the slavery debate.
The movie is loaded — perhaps too much so — with distinguished actors, which results in some performers (like John Hawkes as a lobbyist and Jackie Earle Haley as the Confederacy's vice president) barely making much of an impression. And while the cast is generally quite strong, Jones occasionally overdoes his character's cantankerousness. But in general, the ham is at a minimum, with Joseph Gordon-Levitt memorable as Lincoln's oldest son Robert and Sally Field imbuing Lincoln's wife Mary Todd with real fire.
Lincoln's tech credits are unimpeachable, with production designer Rick Carter deserving special notice for his lived-in sets and unfussy period detail. The film doesn't allow cinematographer Janusz Kaminski to flaunt the sort of visual pizzazz that previous Spielberg collaborations afforded, but his subtle lighting and steady framing make the past seem as immediate as the present. Rather than trying to jazz up the proceedings, Kaminski and Spielberg have enough faith in their script (courtesy of Tony Kushner) and their actors not to decorate the drama with stylistic gimmicks.
Of course, though, the movie's strengths start with Day-Lewis. Lincoln doesn't try to offer a definitive portrait of the man's motivations and psychological makeup, and in fact Day-Lewis's performance is intentionally withdrawn, keeping this celebrated president still something of a mystery. But Spielberg is keenly aware of the pressures that Lincoln felt on all sides — from his advisors, from his political opponents, from his family members — and rather than artificially trying to amplify that tension, he lets Lincoln's thoughtful, deliberate decision-making process dictate the film's gradual pace.
No doubt Lincoln scholars will debate the accuracy of Day-Lewis's performance, but the actor's decision to portray the man as the calm eye at the centre of one of America's greatest storms gives the president a warm humanity that a couple centuries of deification had threatened to overshadow.
Production companies: DreamWorks Pictures, Twentieth Century Fox, Reliance Entertainment, Participant Media, Dune Entertainment, Amblin Entertainment, Kennedy/Marshall Company
Domestic distribution: Walt Disney Pictures, http://movies.disney.com/
Producers: Steven Spielberg, Kathleen Kennedy
Executive producers: Daniel Lupi, Jeff Skoll, Jonathan King
Screenplay: Tony Kushner, based in part on the book Team Of Rivals: The Political Genius Of Abraham Lincoln
Cinematography: Janusz Kaminski
Editor: Michael Kahn
Production designer: Rick Carter
Music: John Williams
Website: http://thelincolnmovie.com/
Cast: Daniel Day-Lewis, Sally Field, David Strathairn, Joseph Gordon-Levitt, James Spader, Hal Holbrook, Tommy Lee Jones