Dir: Valeria Sarmiento. Portugal-France. 2012. 152mins.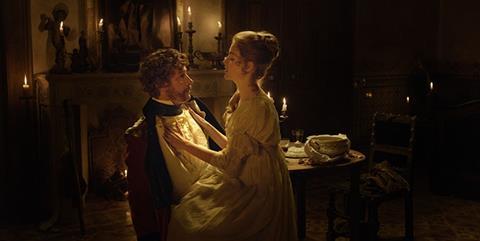 It's difficult to know quite what this stirring but cliché-ridden tale of Portuguese and British resistance to Napoleonic invasion during the Peninsular War is doing in the main competition at Venice. Made primarily for television – though admittedly with glossy production values and some Euro-star cameos – the two and a half hour picaresque ensemble drama prompted several walkouts from the assembled press corps.
Technical credits are strong across the board, with cinematographer Andre Skankowski's thoughtful framing and painterly lighting a particular strongpoint.
Lines Of Wellington (Linhas de Wellington) meanders along pleasantly enough, and the film's depiction of the suffering war brings to ordinary people – especially women – rises above the sentimental at times. But for all the imprimatur of late lamented Chilean director Raul Ruiz – whose widow stepped in to complete pre-production and direct the film on her husband's death – commercial breaks lurk in the wings of a film that, beneath its cinematic sheen, has its soul in the small screen.
Further festival pitstops after Venice – including Toronto, San Sebastian and New York – will present the defence's case for theatrical distribution. One powerful disincentive in this mostly Portuguese-speaking film for audiences in English-speaking territories will be some passages of wooden English dialogue, whose comedy value goes well beyond what was presumably intended. Apart from Malkovich, who plays General Wellington as a kind of tetchy military dowager, the other big names in the film – Isabelle Huppert, Catherine Deneuve, Michel Piccoli and Chiara Mastroianni – put in single-scene cameos (indeed, their scenes seem written with these cameos in mind). Still, that's enough to get their names on the poster, which could count for something.
An opening caption sets the scene: it's 1810, and Napoleon's army is advancing down through Portugal with its sights set on Lisbon. Attempting to hold them back is a smaller combined Portuguese and British force commanded by General Wellington (Malkovich), who spends most of his time fussing over portraits of himself and the battlefield scenes he has commissioned. After a battle in Bucaco, the victorious allied forces makes a tactical southward retreat towards the 'Lines of Wellington' – better known as the Lines of Torres Vedras, a ring of fortifications encircling the Portuguese capital that the British general has been secretly building.
Along the way several stories emerge and entwine. Two Portuguese officers, Francisco Xavier (Lopes) and Pedro de Alencar (Cotta), together with footsoldier Ze Maria (Pimentel) engage in various sentimental and military adventures; in Coimbra, the wounded Pedro finds refuge in the house of elderly aristocrat Dona Filippa (Penedes), while Francisco finds himself increasingly drawn to Maureen (West), the beautiful Irish widow of a British officer killed in battle.
On the British side, the main character is an Anglo-Portuguese major, Jonathan Foster (Urghege) who in a comic-relief plot strand that falls decidedly flat, is targeted by Clarissa (Guerra), a forward young English miss on the make. Other key characters include whore-with-a-heart-of-etcetera Martirio (Chaves), romantic poet Vicente de Almeida and a young autistic boy who gets swept along in a retreat that involves not only the Anglo-Portuguese army but a population ousted by Wellington's scorched-earth policy, and fearful of the arrival of the French Jacobins.
The chaos of these turbulent years, and the complexity of a conflict that as well as the main stand-off spawned sideshows like marauding anti-Jacobin Catholic gangs, is well conveyed. Indeed, the film's strongest feature is its depiction of the banality of war as well as its human cost – as in Tolstoy's War and Peace, of which there are distinct echoes in Carlos Saboga's screenplay. Technical credits are strong across the board, with cinematographer Andre Skankowski's thoughtful framing and painterly lighting a particular strongpoint. Arriagada's Mahler-meets-Morricone soundtrack is efficient at emotional pointing but sometimes suffocatingly high in the mix – perhaps in an attempt to cover up some of the holes in the acting and the dialogue.
Production companies: Alfama Films, France 3 Cinema
International sales: Alfama Films, www.alfamafilms.com
Producer: Paulo Branco
Screenplay: Carlos Saboga
Cinematography: Andre Szankowski
Editor: Valeria Sarmiento, Luca Alverdi
Production designer: Isable Branco
Music: Jorge Arriagada
Website: www.linesofwellington.com
Main cast: Nuno Lopes, Soraia Chaves, John Malkovich, Carlotto Cotta, Marisa Paredes, Victoria Guerra, Marcello Urgeghe, Jemima West, Alfonso Pimenthel