Dir: Lisandro Alonso. Argentina-Netherlands-France. 84mins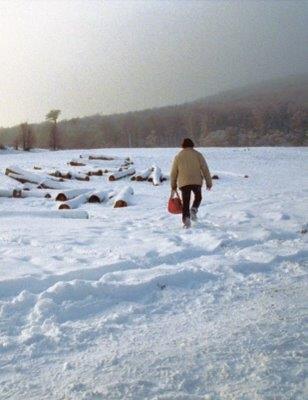 The latest study in solitude from Argentina's Lisandro Alonso is a chilly road movie set in Tierra del Fuego, with an unknowable protagonist and an enigmatic outcome. This will be a guaranteed turn-off for most viewers, but the auteur's small army of devoted admirers - on the rise since his 2001 debut La Libertad - will see this fourth feature as a subtle refinement of his gaunt style. Fans on thefestivalcircuit will follow Alonso on his lonely but determined path, but Liverpool is unlikely to be a port of call for any but the most intrepid of left-field niche buyers.
Taking its time to rouse itself, the narrative starts on a merchant ship somewhere at sea, with long takes sketching out an existence lived mainly below decks. Eve ntually a character emerges - a crewman named Farrel (Fernandez), who requests shore leave to visit the mother he hasn't seen in years, and who may no longer be alive. When the ship docks, Farrel arms himself with kitbag and vodka, hops ashore and spends an evening in town: eating a meal, visiting a lapdancing club and sleeping it off. He then strikes out across a wintry landscape, hitching a ride on a log truck, until he eventually reaches a small settlement centred around a sawmill and an austere canteen.
Sleeping for the night in an open hut, he's brought indoors by an elderly man called Trujillo (Cabrera) who warns Farrel that he's been forgotten after all his years away, not least by his aged mother. The wizened, bedridden old lady has no idea who Farrel is, and apparently he's not welcome in town. One person who shows some apparent interest in his presence is Analia (Irrazabal), a young woman with learning difficulties who, it's implied, is the daughter that Farrel has never met.
Like Alonso's other films, notably his 2004 quest story Los Muertos, Liverpool holds the attention, as long as you're willing to enter something like the trance-like state that it requires. But it also keeps the viewer at a distance, discouraging emotional involvement and withholding all but the most basic info rmation. Liverpool is the road movie at its sparest and most down-to-earth.
Lucio Bonelli's composed photography gives landscapes and interiors alike a precise matter-of-factness. Liverpool offers stark and rarefied pleasures, but Alonso proves that, like his hero, he knows the road he means to take and he determinedly follows it all the way.
Production companies
4L
Fortuna Films
Slot Machine
Eddie Saeta
Black Forest Films
International sales
The Match Factory
(49) 221 539 709-0
Producers
Lisandro Alonso
Ilse Hughan
Marianne Slot
Luis Minado
Christophe Hannheiser
Screen play
Lisandro Alonso
Salvador Roselli
Cinematographer
Lucio Bonelli
Production designer
Gonzalo Delgado
Editor
Lisandro Alonso
Fernando Epstein
Martin Mainoli
Sergi Dies
Music
Flor Maleva
Main cast
Juan Fernandez
Giselle Irrazabal
Nieves Cabrera