Dir/scr: David Trueba. Spain. 2013. 108mins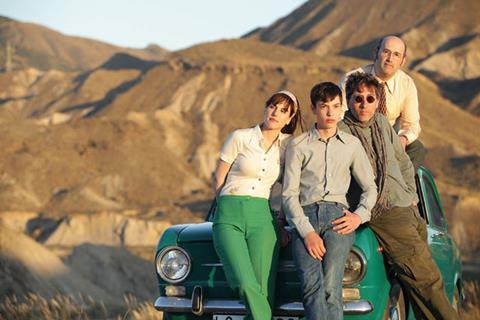 Living Is Easy With Eyes Closed (Vivir es fácil con ojos cerrados) isn't the catchiest title, but it comes from John Lennon`s enigmatic Strawberry Fields which, like the film, once played is not easily forgotten. David Trueba`s film uses the singer-songwriter's 1966 visit to Spain, when he shot a film in Almeria, considered leaving The Beatles, and started composing the song, as a backdrop to a tender, comedic, coming-of-age story which bristles with poignant references to the lingering effects of Spain's dictatorship.
At home, success seems assured and leading the charge is Javier Camara, in a role which may finally lead Spain`s national treasure into wider recognition overseas.
David Trueba, younger brother of Oscar-winner and musical producer Fernando, continues to examine Spain's sensitive past after the Goya-winning Soldiers of Salamina, set during the Civil War. Thirty years have passed, and Spaniards are living uneasily under Franco's rule: Living Is Easy's attractive, pastel period settings and accomplished comedic notes dress a bittersweet sadness which may well see the film into the international art house arena.
At home, success seems assured and leading the charge is Javier Camara, in a role which may finally lead Spain`s national treasure into wider recognition overseas. He`s always been a spirited, magnetic presence and a huge draw in Spain with repeat appearances in Almodovar films and the domestic smash Torremolinos 73. Here, as a primary school teacher who is obsessed with John Lennon, his charisma is evident but also restrained.
Antonio (Camara) teaches his students English through the lyrics of the Beatles smash Help!, and this cry for assistance resonates throughout Living Is Easy – for its characters and the country itself. Portly, bespectacled Antonio simply wants to meet Lennon on the set of How I Won The War in Almeria, the poor Southern province which became home to both Spaghetti Westerns and art films such as Dr Zhivago. Taking to the road, he picks up the pregnant Belen (de Molina) and runaway Juanjo (Colomer), who end up joining him on his pilgrimage to Cabo de Gato.
Brightly shot – perhaps too warmly for some of its darker themes – with a fondness for period kitsch, Tueba`s film seems superficially like many other cinematic road trips, with its ragtag outcasts and their disparate issues. But this is Franco's Spain, where the radio plays non-stop religious convocations, there is widespread poverty, no hope of a sexual revolution, and a future which isn't overly bright for any its protagonists no matter what kinks they iron out onscreen. This sadness permeates Living's warm and assured breeziness, marking it out.
Trueba's last film, Madrid 1987, was a two-hander with another Spanish icon, Jose Sacristan, and, although less successfully-excuted, reinforces that he has become an actor`s director of note. His films are gaining in depth, and his examination of Spain's recent past is becoming more nuanced and compelling.
Technical credits are good here, most notably with costumes from Lala Huete, Spain's foremost film designer, although camerawork is perhaps too comfortable. A guitar soundrack composed by Pat Metheny with Charlie Haden is omnipresent throughout and again, lacks a dynamic edge although the film moves comfortably along through a well-judged 108 mins.
Production company/International sales: Fernando Trueba LC, nerea@fernandotrueba.com
Producer: Fernando Trueba
Executive producer: Cristina Huete
Cinematography: Daniel Vilar
Editor: Marta Velasco
Main cast: Javier Camara, Natalia de Molina, Francesc Colomer, Ramon Fontsere, Jorge Sanz, Ariadna Gil