Dir: Stephen St. Leger and James Mather. France-US. 2011. 95mins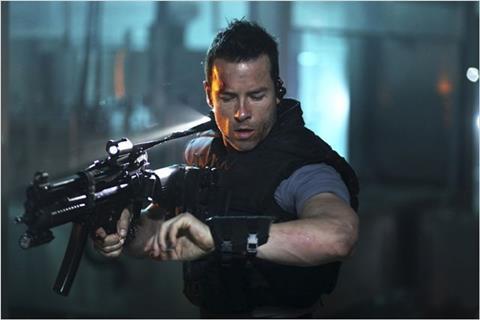 Big dumb fun is the chief objective of Lockout, so it's a pity that this sci-fi action flick only consistently delivers on two-thirds of its promise. Revelling in its derivativeness while trumpeting its down-and-dirty B-movie aesthetic, the movie goes a long way thanks to its self-mocking machismo. But despite an aggressive change-of-pace performance from Guy Pearce in movie-star mode, the latest pure-adrenaline offering from prolific producer Luc Besson starts to feel tiring rather than exhilarating.
For a while, Lockout's headlong rush captivates, aided by Pearce's sardonic turn as a no-nonsense smartass.
Opening April 13, Lockout may face some demographic competition from the horror-comedy The Cabin In The Woods, which arrives the same weekend. But even though Pearce is hardly a marquee attraction, this FilmDistrict release is hoping that there will be enough distance between itself and The Hunger Games and Wrath Of The Titans to carve out its own niche in the action market before Safe and The Avengers arrive in a few weeks. Still, it seems likely that Lockout will be no box office knockout, relying on ancillary markets to make up for any theatrical shortfall.
Set in the year 2079, Lockout plays out as a mad-scientist mixture of Die Hard and Con Air. Government agent Snow (Pearce) has been accused of a murder he didn't commit, and the only way to escape a stint in prison is to volunteer to travel to M.S. One, a high-security jail orbiting above Earth, and free the US president's daughter Emilie (Maggie Grace), who has been taken hostage. But that will require him entering a facility filled with roughly 500 freed (and angry) prisoners.
Making their feature directing debut, Stephen St. Leger and James Mather (who bill themselves as Saint & Mather) follow the template laid out by Besson's previous high-octane action productions like Colombiana, From Paris With Love and the Transporter films. Consequently, Lockout is all furious forward momentum, with character development and story logic taking a backseat to visceral thrills, more-is-more visual flair, and a tongue-in-cheek sense of humour regarding its own utter preposterousness.
For a while, Lockout's headlong rush captivates, aided by Pearce's sardonic turn as a no-nonsense smartass who's less concerned with being heroic than he is in delivering a wry quip for every occasion. Unfortunately, it soon becomes clear that Lockout is little more than its flamboyantly macho attitude – even Grace's Emilie, the movie's principal female character, proves to be one tough cookie – which eventually becomes monotonous.
While the film's script serves up some rather standard action sequences and ineffective flirty byplay between Snow and Emilie, Lockout's sharp look keeps the eye pleasantly diverted. Photographed by Mather and production designed by Romek Delimata, the film's prison station has a striking, claustrophobic look, and the movie's effects work is, for the most part, rather impressive considering that Lockout presumably doesn't boast the budget of a major studio offering.
But probably Lockout's most novel feature is Pearce's performance. Best known for his work in dramas like L.A. Confidential or Memento, Pearce essentially adopts the aura of Bruce Willis from Die Hard, playing the wise-cracking regular guy who is incredibly outnumbered by baddies. But the novelty of watching Pearce channel his inner action hero gets old since the screenplay (written by Saint & Mather with Luc Besson) doesn't give him sufficient amounts of great dialogue. As formidable a presence as he is, Pearce can only do so much with an underwritten, one-note role that lacks much personality.
Likewise, Pearce's castmates have to bring what they can to characters who feel badly recycled from other action/prison-break films. Grace is serviceable as Emilie, mostly serving as the eye candy in a film clearly geared toward red-blooded males. More problematic are Vincent Regan and Joseph Gilgun as Lockout's chief villains. Playing brothers – one sensible, the other a dangerous loose cannon – neither actor really registers, which leaves Lockout without the necessary spark to give its familiar storyline extra pizzazz.

Production companies: FilmDistrict, EuropaCorp, Canal+, Cine+
Domestic distribution: Open Road Films, www.openroadfilms.com
International sales: Europacorp, www.europacorp.com
Producers: Marc Libert, Leila Smith
Screenplay: Stephen Saint-Leger, James Mather, Luc Besson, from an original idea by Luc Besson
Cinematography: James Mather
Production designer: Romek Delimata
Editors: Camille Delamarre, Eamonn Power
Music: Alexandre Azaria
Website: www.lockoutfilm.com
Main cast: Guy Pearce, Maggie Grace, Vincent Regan, Joseph Gilgun, Lennie James, Peter Stormare, Jacky Ido, Tim Plester, Mark Tankersley, Anne-Solenne Hatte