Dir: Andrucha Waddington. Spain-Brazil. 2010. 109mins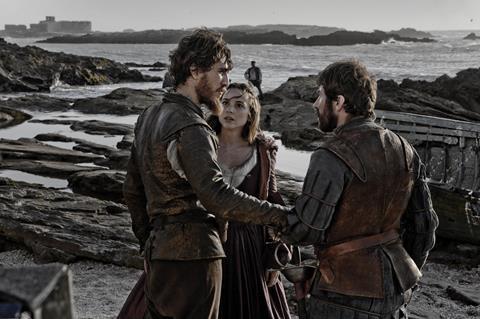 Lope in Love? The plot of this historic romp centring on the romantic intrigues of prolific Spanish Baroque playwright Lope de Vega at the beginning of his literary career bears so many resemblances to John Madden's 1998 Oscar-winner that you have to remind yourself that the script is in fact a fairly accurate account of Lope's colourful life. The result is an entertaining and surprisingly accessible film even for an international audience, which lopes along with a good deal of verve and panache.
This is a romance-tinged historical adventure rather than a spoof-laden rom-com, and both the colour palette and orchestral soundtrack are at times quite dark and sombre.
Brazilian director Andrucha Waddington (House of Sand) roots the film in a credible, dark-hued version of late 16th-century Madrid, and newcomer Ammann exudes rascally charm as a laid-back young poet so talented and handsome that he hardly even needs to try – either with words or women.
This is still, however, a difficult export proposition. De Vega, who wrote a staggering 1800 plays in the course of his 56 year career, is a Spanish national treasure, and the 30% production stake of mobile phone operator Telefonica demonstrates that Lope is considered a safe prestige commercial bet on home territory in Spain, with a certain cultural kudos for its investors. Portugal and Latin America will also be susceptible to the double draw of De Vega and Waddington; but elsewhere, despite its viewability, the film will struggle to raise much interest from an audience for whom Lope de Vega is either completely unknown or considered a marginal literary figure. Clever marketing (and/or a longer, more explanatory title) may help to overcome this hurdle. TV sales could turn out to be fairly robust.
The time and place (1580s Madrid) may be different, but Lope shares with Shakespeare In Love a vision of the theatre as one of the few social levelers and fluid networking opportunities in a rigidly hierarchical society. Just back from soldiering in the Azores, penniless but ambitious young Lope (Ammann) borrows a marquis' suit of clothes from his valet brother to impress his dying mother, and then goes in hock to a moneylender to give her a gentlewoman's funeral. Enraptured when he stumbles into a theatre's backstage area, he soon discovers a talent for writing – first revising the plays of others, then penning original works of his own which break the mannerist conventions of the time and introduce a more realist note.
Before long he's signed up with the city's leading theatre impresario, Velazquez (Diego), thanks also to the intercession of the latter's sultry daughter Elena (Lopez de Ayala), who has the hots for the dashing young poet. They embark upon a passionate clandestine affair, but it's clear to the audience (though not, at first, to Lope) that his real soul mate is Isabel (Watling), a childhood friend who has blossomed into womanhood. The only problem is that Isabel is engaged to the Marques de la Navas (Mello), who has asked the effortlessly talented Lope to pen some love poems to his fiancée that he can pass off as his own.
Where Lope departs from Madden's Bard-romp is in its more straightforward biopic tone: this is a romance-tinged historical adventure rather than a spoof-laden rom-com, and both the colour palette and orchestral soundtrack are at times quite dark and sombre. The main wooden theatre location is inventively used, with its stage, pit, dressing rooms, canopy and the windows of Velazquez' house opposite providing plenty of opportunity for dramatic counterpoint. In the end, though, it's the energy and charm of the central character that leaves the most lasting trace after the film has galloped its raunchy, dashing course.
Production companies: Antena 3 Films, El Toro Pictures, Ikiru Films, Conspiraçao Filmes
International sales: Wild Bunch, www.wildbunch.biz
Producers: Mercedes Gamero, Jordi Gasull, Edmon Roch, Andrucha Waddington
Executive producers: Juan Carlos Caro, Leonardo M. Barros, Eliana Soarez, Julio Ariza, Angel Blasco, Iona De Macedo
Screenplay: Jordi Gasull, Ignacio del Moral
Cinematography: Ricardo della Rosa
Production designer: Carlos Bodelon
Editor: Sergio Mekler
Music: Fernando Velazquez
Website: www.lopelapelicula.com
Main cast: Alberto Ammann, Leonor Watling, Pilar Lopez de Ayala, Juan Diego, Luis Tosar, Antonio Dechent, Selton Mello, Antonio della Torre, Sonia Braga