Dir/scr: Brendan Muldowney. Ireland-Netherlands-Luxembourg-Japan. 2013. 97mins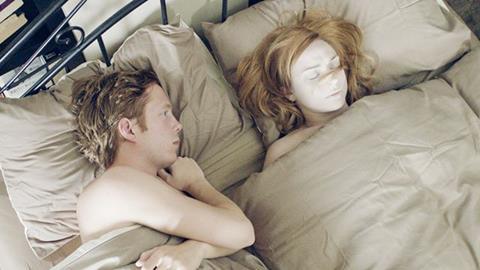 A beguiling and deftly enigmatic tale of dark and haunted love, writer/director Brendan Muldowney second film Love Eternal is an atmospheric story of a young man who can barely deal with life and whose love for the dead takes him into rather disturbing territory.
The film's rich and atmospheric moodiness could make it appealing to distributors.
Mudowney shifts Japanese author Kei Oishi's novel Loving The Dead to Europe, casting softly-spoken Dutch actor Robert de Hoog as Ian, a gentle loner traumatised by death (his father died when he was young and as a student he found the body of a girl friend who had hanged herself) and who is drawn to those who want to embrace death. The film had its world premiere at the Galway Film Fleadh and also screened at Montreal's Fantasia Film Festival.
The film's rich and atmospheric moodiness could make it appealing to distributors, though to a degree it straddles arthouse and genre, and is perhaps not gory enough for hard core horror fans. It should certainly appeal, though, to other film festivals.
After those early encounters with death, Ian locks himself in his room, and when his mother also dies (handily leaving him a handwritten book on how to live his life) he decides it is time to take his own life. He plans to feed the exhaust into his car, but just as his about to do it he spots a van full of young people who have done the same thing. He decides to take home the body of teenage schoolgirl Anna (Xenia Katina) who lies dead in the van, bathes and tends her, finally have a 'friend' to talk to.
After she decomposes and he buries her in his garden, he seeks out websites to communicate with those who want to commit suicide. Pretending to want to be in a mutual suicide pact, he assists Tina (Amanda Ryan) in her death, and then – again –takes her home, bathes her and sleeps with her. Necrophilia is – of course – a dark and difficult subject on film, but the film is more about love and affection rather than sex, and the scenes are handled with an almost romantic delicacy.
Things change when he befriends Naomi (an impressive Pollyanna McIntosh), a woman in grief over the death of her child and torn if she wants to live or die, with Ian gradually coming close to the reality of a person still alive rather than the imagination he forms around a woman who is dead.
Elegant work from Irish cinematographer Tom Comerford; astute use of locations (though set somewhere in Europe, the accents, cars and backdrops combine to present a rather unworldly location) and a suitably ethereal score from Dutch composer Bart Westerlaken help director Muldowney come up with a delicate and gently disturbing film that is rather impressive.
Production companies: Fastnet Films, Red Lion, Rinkel Films, T.O. Entertainment
International sales: Reel Suspects, www.reelsuspects.com
Producer: Conor Barry
Executive producers Macdara Kelleher, Morgan Bushe
Co-producers: Pol Cruchten, Jeanne Geiben, Ray Lamiya, Lindsay Newman, Reinier Selen
Cinematography: Tom Comerford
Editor: Mairead McIvor
Production designer: Owen Power
Music: Bart Westerlaken
Main cast: Robert de Hoog, Pollyanna McIntosh, Amanda Ryan, Emma Eliza Regan, Aiden Condron, Declan Conlon, Daniel Reardon, Tom Leick, Frédéric Frenay, Patrick Hastert