Dir/scr: Seren Yuce. Turkey. 2010. 102mins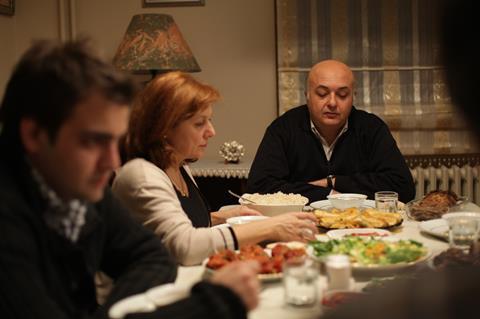 Seren Yuce's debut film, though suffering from a loose, unstructured script in need of urgent tightening, leaves no doubt about his intentions, none of them flattering the intolerant, chauvinistic society in which he depicts. A family drama whose conclusions are foregone, its main argument is that whatever the younger generation may be like today, sooner or later they will turn out to be as unpleasant, narrow-minded, aggressive and tyrannical as their parents.
The film turns into a cautionary coming-of-age tale Turkish style, stressing male chauvinism, female discrimination, social injustice and corruption
Despite the strict and unbending attitude of its characters and far too many repetitive sequences, festivals and socio-politically oriented programming are bound to welcome it. The film premiered in the Venice Days section.
Merktan (Kucukcaglayan), is the 20 year-old son of Kemal (Tanriogen) a despotic, upper middle class, successful building contractor, a bully who runs his home and his business with an iron fist. Nerdy, flabby and weak, Merktan has been terrorised by his father since childhood… he is a failure at school, no use in the office, wasting his time with equally clumsy boys of his age, drinking and smoking too much or sitting by himself in his room, his face arranged in a constant scowl of discontent.
A chance encounter with a student, Gul (Madra), who works as burger joint waitress leads to a brief romance culminating in what is a relatively rare display of frank sex in Turkish cinema. He even dares to bring the girl home and introduce her to his parents, but once his father finds out that she is possibly Kurdish (though the name of the ethnic minority is never actually pronounced in the film) and that she lives on her own In Istanbul far away from her family, he orders his son to separate from her instantly.
For his father, "she is not one of us, does not practice the same religion", and in any case, for a wealthy man like him, she comes from the wrong side of the tracks.
Merktan, too much of a coward to put up an argument, and further terrified by Gul's threatening relatives sent to Istanbul to bring the girl back home, runs away, crashes his car against a cab. He allows his father to harass the taxi driver whose livelihood risks being ruined, and is finally dispatched to a remote building site to bide his time until he will be drafted to the army - to do his duty for God and country whether he likes it or not - before returning home to become an exact copy of his father.
The basically typical melodrama of rich boy falling for wrong girl turns here into a cautionary coming-of-age tale Turkish style, stressing male chauvinism, female discrimination, social injustice and corruption, with Yuce throwing in references to taboo subjects in Turkish society, such as the Armenian genocide.
Staying away from the touristic attraction of Istanbul, Yuce focuses on the fast growing uniform blocks surrounding the city like a concrete belt. There is very little sympathy bestowed here either on the rigid, dictatorial father or on his limp weakling of a son whose romance appears to be completely devoid of emotion, at least on his part. The women may be softer but they either accept their fate silently, not daring to protest, or are doomed to destruction by the male-oriented world in which they live.
Tanriogen, typecast as the father who will have his way or else, lacks the human inkling of his similar part in Die Fremde; Bartu Kucukcaglayan seems to sport one expression all through the film and it would be difficult to understand a girl's affection for such an inanimate object, while both Esme Madra (Gul) and Nihal Koldas, who plays Merktan's mother, are never given a real chance to expand their characters. Maybe because this is a man's world…and, as the title indicates, men are in the majority.
Production company: Yeni Sinemacilik
Producers; Sevil Demirci, Onder Cakar
International Sales: The Match Factory, www.the-match-factory.com
Cinematography: Baris Ozbicer
Production design: Meral Efe
Editing: Mary Stephen
Sound: Mustafa Bulukbasi
Main cast: Bartu Kucukcaglayan, Settar Tanriogen, Nilhal Koldas, Esme Madra