Dir: Simon Wells. US. 2011. 88mins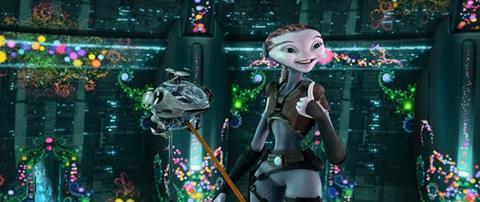 Production design outpaces storytelling in Mars Needs Moms, the latest film created by Robert Zemeckis' motion-capture ImageMovers Digital animation studio. An ambitious mix of tones gives this sci-fi tale an overall darker palette than your typical children's film, but director Simon Wells' 3D adaptation of cartoonist Berkeley Breathed's picture book is so rambunctious that it snuffs out much of the charm and pathos from its story about a boy who learns how important his mom really is to him.
Mars Needs Moms lacks the soulfulness that would have given the film the warmth and resonance it badly needs.
Mars Needs Moms opens March 11, just a week after another splashy animated offering, Rango. With its emphasis on action and male bonding, this Disney movie seeks to lure boys more than girls, although its somewhat scarier elements may keep parents from taking their youngest children. Boasting no major stars, Mars may not produce stellar box office, although its ancillary fortunes look more assured.
Nine-year-old Milo (voiced by Seth Dusky, though using motion capture based on actor Seth Green) considers his mother (Joan Cusack) to be a pest, but when she's kidnapped by Martians he sneaks onto their spaceship to find out what they want with her. With the help of Gribble (Dan Fogler), a marooned Earthling living on Mars, Milo must rescue his mom before the aliens drain her essence for their own nefarious reasons.
Incorporating the motion-capture animation technology used in other ImageMovers projects like The Polar Express and Disney's A Christmas Carol, Mars Needs Moms works best when it focuses on the imaginative, futuristic world of Mars. Drawing comparisons to the similarly sleek neon grey/blue look seen in the recent TRON: Legacy, production designer Doug Chiang and cinematographer Robert Presley do superb work illustrating the different levels of Martian society, from the sterile realm of the female leaders to the hellish land of the males further underground.
But the film's visual pleasures don't compensate for a chaotic story that's fatally marred by two irksome central characters. While Milo is meant to be a typically petulant adolescent hero who grows up because of his adventure, Green's voice work overdoes the character's whiny anxiousness to the point that it's hard to root for him, despite the danger his mother faces. Likewise, Gribble comes across as a predictably wisecracking sidekick, with Fogler's antics failing to make the overgrown man-child amusing.
Mars Needs Moms walks a tricky line between delivering kid-appropriate shenanigans and delving into more grownup emotional terrain involving death and self-sacrifice. Wells' attempt to bridge this tonal divide is daring, and on occasion the movie hints at what it could have been: a fun sci-fi story that's really a parable about the importance of family. But while Zemeckis' motion-capture animation has improved significantly since the days of The Polar Express, allowing the human characters to not feel so stiff and alien as they once did, Mars Needs Moms nonetheless lacks the soulfulness that would have given the film the warmth and resonance it badly needs.
Production company: ImageMovers Digital
Worldwide distribution: Walt Disney Pictures
Producers: Robert Zemeckis, Jack Rapke, Steve Starkey, Steven Bond
Screenplay: Simon Wells & Wendy Wells, based on the book by Berkeley Breathed
Cinematography: Robert Presley
Production designer: Doug Chiang
Editor: Wayne Wahrman
Music: John Powell
Website: www.disney.com/MarsNeedsMoms
Main cast: Seth Dusky, Dan Fogler, Elisabeth Harnois, Mindy Sterling, Joan Cusack, Seth Green