Dir: Thomas Imbach. Switzerland-France. 2013. 120mins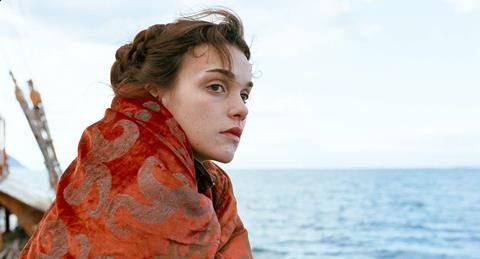 Swiss director Thomas Imbach's take on the much-told story of Mary Queen of Scots is an intimate version – rather than an all-singing, all-dancing epic drama – the dwells on personalities and discussion rather than armies, ships and battles. That it rests on the rather fragile seeming shoulders of young Camille Rutherford and attempts to fill its rather-to-long running time with an oddly pedestrian storyline means that though nicely presented the film rarely brims with much needed passion or drama.
Mary Queen Of Scots is punctuated by moments of nicely staged scenes, but feels rather stage-bound, lacking an urgent sense of drama.
The film, which has its world premiere at the Locarno Film Festival and is set to screen in Toronto, follows the story of young Mary through to her final imprisonment by her cousin Queen Elizabeth of England, and is based around a series of letters written to Elizabeth.
The period setting, evocative locations and good use of costumes are impressive, and while the story is littered with intrigue, romance and murder it is rarely driven by a sense of passion or real drama. And while Camille Rutherford has a sweet and at times youthfully regal bearing the burden of carrying a two-hour film is a little too much.
Young Mary Queen of Scots (Rutherford) spends her childhood in France, where she is also meant to become the Queen of France. When her gun-obsessed young husband dies, the young widow returns to Scotland.
Mary marries again and gives birth to an heir to the thrown, but increasingly her new husband Lord Darnley (Aneurin Barnard) turns out to be weak and attempts to be manipulative, and she finds herself falling for the Earl of Bothwell (Sean Biggerstaff), who finally offers the love that she yearns for. But when he arranges the murder of Darnley and Mary marries Bothwell (she a Catholic marrying a Protestant) the nobles turn against them – when an army gathers for battle she is compelled to give up her new husband and turns to Elizabeth, the Queen of England for assistance.
Mary Queen Of Scots is punctuated by moments of nicely staged scenes, but feels rather stage-bound, lacking an urgent sense of drama. Cleverly director Thomas Imbach avoids the usual clichéd aspects of the story by not dwelling on the imprisonment and subsequent execution of Mary. A slight misjudgment is the decision to use the character of puppeteer Rizzio (Mehdi Dehbi) as a confidant for Mary…even after he is killed. He continues to appear as a 'ghost', offering advice and solace…but actually simply clutters the story and works as a rather clumsy narrative device.
When the film works best it is when making striking use of the locations, which help create a very real sense of place and location. The cast are impressive, with seasoned campaigners such asClive Russell and Bruno Todeschini making a strong impact in relatively limited roles.
Production companies: Okofilm Productions, SRF, SRG, SSR, ARTE
Contact: Okofilm, info@okofilm.ch
Producers: Thomas Imbach, Andrea Staka
Executive producers: Emilie Blezat, Subylle Sarah Imbach
Screenplay: Thomas Imbach, Andrea Štaka, Eduard Habsburg, based on the novel Maria Stuart by Stefan Zweig
Cinematography: Rainer Klausmann
Ediitor: Tom La Belle
Production designer: Gerald Damovsky
Music: Sofia Gubaidulina
Website: www.maryqueenofscots-movie.com
Main cast: Camille Rutherford, Mehdi Dehbi, Sean Biggerstaff, Aneurin Barnard, Edward Hogg, Tony Curran, Clive Russell, Bruno Todeschini