Dir/scr: Cherien Dabis. US-Jordan-Qatar. 2013. 100mins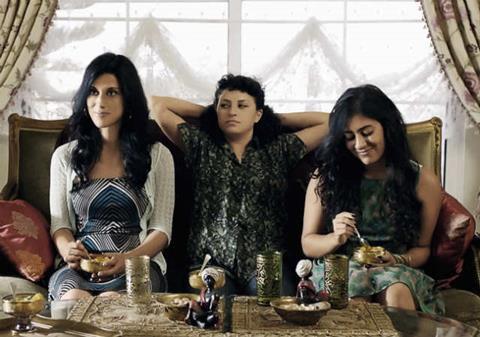 Tagged as a dramatic comedy, though more dramatic than comic, Cherien Dabis' follow-up to her much acclaimed Amreeka, a grittily witty tale of a Palestinian woman grappling with life in the US, the film basically turns the coin over to look at its opposite side. The protagonist is still a Palestinian woman, but this time, she has lived and made a name for herself in the States and comes back to Jordan to face the family and the country she left behind years ago and it also underlines how much out of depth the character feels now in what used to be her home.
Dabis' lively film is energetically cut and directed to look for all purposes like a comedy.
Dabis' decision to play the leading part suggests this may be a pretty personal affair, which could also be the reason why it is so difficult for her to have a more light hearted approach to her heroine's misapprehensions about the troubles she lets herself in by coming home, which incidentally turn out to be fully justified. Anxiety is much more in evidence than sheer fun in this affectionate portrait of an upper middleclass family that isn't having as good a time as they would like to.
May Brennan (Dabis), is in her early thirties, she lives in New York, had recently published a book interpreting the Middle East through its proverbs which garnered general praise, and is now back in Amman, with her divorced mother Nadine (Abbass) and her two younger sisters Yasmine (Malouf) and Dalia (Shawkat), waiting for her boyfriend, Ziad (Siddig), a highly respected lecturer on Middle Eastern affairs, to join her.
They intend to be married on home grounds, in the presence of their families, which is not as simple as all that. For Nadine, a devout born-again Christian, is against her daughter marrying a Muslim, feeling mixed marriages being doomed to fail. As she should well know, since her former husband, Edward (Pullman), who left her eight years ago and whom she claims to hate with a passion, is American.
While Nadine threatens never to attend the wedding, Ziad's parents are looking forward to it, making all the necessary preparations for a nuptial feast that will leave all friends and relatives speechless, a sumptuous enough event to throw May into sheer anguish, wondering who needs it all, certainly not her. Her own wealthy but estranged father, who may or may not have a weak heart, has remarried, his new wife, Anu (Pande) is an Indian woman of May's age, and a visit to their home is made even less comfortable by the company of Yasmine and Dalia, both making it as uneasy as they can for everyone around.
The three siblings seem to be inseparable, though miles apart in character. Yasmine is a cheerful girl out to have a ball every chance there is while Dalia, who prefers female company to men, is still trying to deal with her own sexual identity. As time goes by and phone contacts are not always available, May's doubts about a lifetime commitment to Ziad seep in and finally threatens to take over after a brief accidental meeting with and easygoing local tourist guide, who provides a friendly shoulder to weep on.
Effectively using the Jordanian landscape for its backdrop and staying practically away from any direct political issues, Dabis' lively film is energetically cut and directed to look for all purposes like a comedy. The puns, however, never quite provoke the mirth they are expected to, not even when the girls smear each other with mud at a Dead Sea resort, a scene evidently intended as comic relief.
But there's plenty of sympathy and understanding for each of the characters, due, not least to Dabis' total identification with May and to Hiam Abbass, who has already shone in Amreeka, and who manages to infuse in Nadine's often ridiculous obsessions a touching dimension, a woman whose mistrust for the present and fear of the future lead straight into the arms of Jesus, with a healthy dose of superstition to boot. The rest of the cast is up to the same high standards though Bill Pullman looks rather nonplussed as the supposedly remorseful fickle father.
Production companies: Displaced Pictures, Orjouane Productions
International sales: Elle Driver
Producers: Cherien Dabis, Alix Madigan-Yorkin, Christopher Tricarico
Cinematography: Brian Rigney Hubbard
Editor: Sabine Hoffman
Production designer: Ola Maslik
Music: Carlo Siliotto
Main cast: Cherien Dabis, Hiam Abbass, Alia Shawkat, Nadine Malouf, Ruth Singh Pande, Bill Pullman, Alexander Siddig