Dir/scr. Babak Jalali. Iran/UK/Italy, 2009. 96 min.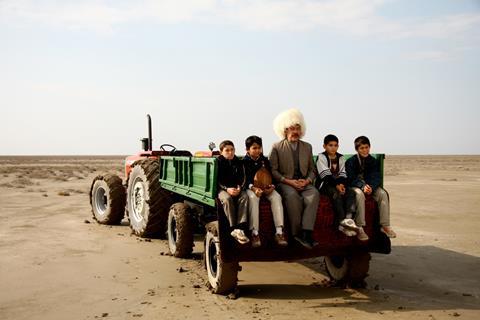 London-based Iranian director Babak Jalali's Frontier Blues is set in an almost still-life-like frontier village where nothing much happens. Based on the young director's own reminiscences of his homeland, it follows four main characters to whom little of consequence takes place throughout the 96 minute running time.
The film's lack of pace and static stance defuses the impact of any irony.
Shot in Golestan, an Iranian province on the border with Turkmenistan which is inhabited by Persians, Turkmen, Kazakhs, Russians and Georgians , the picture's repetitive nature, timid attempts at wry humor and general resistance to story-telling may attract the more anthropologically-minded but will probably over-tax general audiences.
Jalali's script puts together four stories which accidentally converge. The first concerns the backward Hassan (Karimi), who goes nowhere without his donkey. His mother has left him and gone to the West, entrusting him to an uncle who can't stand him. His only interest is collecting registration plates and listening to Francoise Hardy's old hit Tous les garcons et les filles on his portable cassette player.
Kazem, his uncle (Shahrivari), has a fashion shop but no customers and no items on the shelves.
Alam (Kalteh) is a Turkmen who lives with his widowed father, works at the chicken farm and dreams of marrying a Persian's daughter, Ana, and taking her to oil town Baku, where he believes everyone speaks English.
Finally, in the episode which best reflects Jalali's own approach, a Teheran photographer is producing a study of a local Turkmen minstrel (Araz Dordi) who still mourns the loss of his wife who ran away with a shepherd and left him with their four boys. The photographer takes pictures of them against the sunset and sunrise and the sea, constantly changing their positions for better framing, until they send him packing.
Like the character in his film, Jalali's own eye is more that of a stills photographer than a filmmaker; he is better at catching individuals or groups of two and three standing still, freezing them occasionally. The results are beautiful. But when it comes to movement, neither the script nor the visual language here is enough to merit a full-length feature film.
There are a few tongue-in-cheek moments, such as Alam putting on a suit to ask for Ana's hand; Hassan gazing longingly at the exposed breasts of one of his uncle's mannequins; or the process of photographing two local wrestlers. But the film's lack of pace and static stance defuses the impact of such irony.
DoP Shariar Assadi captures best the cast's minimalist approach in the least dramatic moments; when they are unaware, going about their normal routines, or, more often than not, doing absolutely nothing.
To sign up for Screen's weekly Reviews Newsletter with new releases, international openings and full festival reviews delivered free to your mailbox every Friday, please click HERE

Production company
Caspian Films
Producers
Ginevra Elkann
Saadi Soudavar
Homayoun Assadian
International Sales:
Ginevra Elkann
+39 3343 947050
Cinematography
Shariar Assadi
Production Design
Marjan Golzar
Editing
Babak Jalali
Kambiz Saffari
Music
Noaz Deshe
Main Cast
Mahmoud Kalteh
Abolfazl Karimi
Khajeh Araz Dordi
Behzad Shahrivari
Karima Adebibe
George Hashemzadeh
Hossein Shams