US producer and writer Frank Spotnitz hits Croisette with multiple announcements. YouTube head of Entertainment Alex Carloss examines platform's pulling power.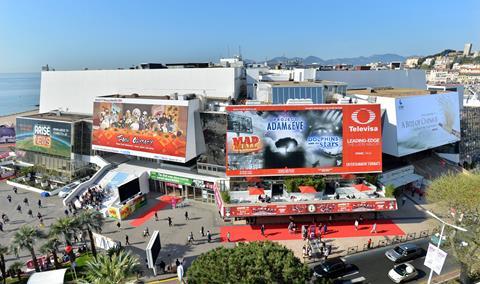 Old and New Media were out in force at MIPTV on Tuesday (8) as veteran producers and writers unveiled projects and new media heavyweights YouTube and Twitter discussed the pulling power of their platforms for traditional content creators as well as newcomers.
A round-up of the day 2 events:
PREVIEWS
US writer and producer Frank Spotnitz joined Olivier Bibas, producer and managing director of Paris-based Atlantique Productions, for a breakfast preview of the second series of Transporter adapted from Luc Besson's popular film franchise.
UK actor Chris Vance returns as the no-nonsense extreme courier Frank Martin opposite Italian actress and singer Violante Placido in a new character role as his right-hand woman.
"We want to keep the identity of the original but also deepen Frank's world," said Spotnitz, noting each episode would comprise a complete story taking the character "from A to B."
Spotnitz, whose writing and producing credits include Hunted and The X-Files, added, "Chris is completely committed to the role, which is hard work physically. He is present on all the stunts."
The slick, high-octane teaser showed the Moroccan leg of the shoot. The production now heads to Prague for five weeks and then Canada. "It's tough moving around so much… but we've set up the schedule to follow the good weather," he said.
Bibas, who is also currently producing the third and last season of Borgia for French broadcaster Canal+, said he expected to make a third series of the TV franchise with Sponitz.
"I won't do Transporter 3 without him," he said.
Later on in the day, Spotnitz would announce a first look deal with Munich-based television powerhouse Tandem.
Atlantique Productions, a subsidiary of Lagardere Entertainment, is producing the show for Canadian QVF for M6 in France and The Movie Network and Movie Central in Canada.
The show is scheduled for an late 2014 premiere. The first series sold to 185 territories and Emmanuelle Bouilhaguet, managing director of Lagadere Entertainment Rights, expects series two to be equally popular.
It has already pre-sold to Italy (Mediaset), Latin America (HBO Ole), Norway (TV2), Turkey (ATV), Portugal (Lusomundo) and Fox. Bouilhaguet said she expected to tie up outstanding European territories the UK, Finland and Sweden shortly.
CONFERENCES
YouTube's audience pulling power
YouTube global head of entertainment Alex Carloss examined how the platform was generating audiences and engagement for mainstream content creators as well as new arrivals.
As an example, Carloss showed how America's beleaguered late night TV shows had been revitalised by tapping into YouTube, with younger hosts like Jimmy Fallon garnering millions of hits with tailor-made clips that work alone on tablets and smart phones as well as dedicated YouTube channels.
"In mid-February Jimmy Fallon took over from Jay Leno as the new host of the Tonight Show, 10m people tuned in to watch his first appearance, but the views on YouTube were double that, 20m," said Carloss. "In fact in the first two weeks of his show, his channel generated 90m views, at times averaging 10m views a day."
Former late night host Conan O'Brian had just celebrated 500m views on his YouTube channel featuring 3,000 uploaded clips while comedian and late night host Jimmy Kimmel regularly generated hundreds of millions of hits with his uploaded pranks and spoofs, added Carloss.
Another example of where a mainstream player had tapped into YouTube could be seen in Disney's decision to allow Frozen fans to upload their personal versions of Let it Go from the soundtrack, including UK-based Alex Boyé's tribal version, which has been viewed more 31m times since it was released on February 13.
"The studio could easily have issued copyright claims against the video and the many others like it and asked for them to be taken down, but they made a choice, a fan-friendly choice, to let users share and create new ones… allow fans to pay tribute and you'll see the incredible benefits of their passion" said Carloss.
Twitter and TV
Twitter chief media scientist Deb Roy argued that the social network and television were becoming increasingly intertwined as viewer tweets and hashtags become an integral part of the viewing experience.
"Twitter makes television better: it is in fact a force multiplier that can enhance the impact and possibilities of television," said Roy. Using the UK's X Factor as an example, Roy looked at how tweets built up before, during and after a show. One X Factor show prompted 21.8m tweets from 1.2m unique users, mainly during its broadcast as voting got underway.
The 2014 Oscars, meanwhile, generated 19m tweets from five million users sent to 37m people. In the 48-hour period surrounding the ceremony the number of tweets topped three billion. In terms of driving viewers to television, Roy said there was growing data evidence suggesting a correlation between related tweet numbers and viewer figures. However he said more precise studies had yet to be done.
The Wit's hot scripted shows
Virginia Mousseler of Switzerland-based media consultancy The Wit presented her latest round-up of the world's hottest fiction programming. The 20-odd selected titles ranged from Ukranian FILM.UA's Russian-language The Sniffer, about a police detective with a heightened sense of smell who solves crimes through his nose, which recently sold to TF1 for France; El Mariachi, Sony Picture Television International's Spanish-language adaptation of Robert Rodriguez's 1993 film; the Argentine drama anthology La Celebracion revolving around a series of celebrations with a dramatic twist produced by Underground Producciones; and British Power Entertainment's 17th century drama Two Worlds following the struggle against the tyrannical rule of Britain's Charles II on both sides of the Atlantic.
ANNOUNCEMENTS
Canal+ Greenlight's McCardie's Spotless
Canal+ has commissioned a first series of London-set, black comedy crime caper Spotless for its Original Programme label. The 10-episode series was co-created by Shameless writer and producer Ed McCardie and Corinne Marrinan, whose credits include CSI and Crossing Lines. Munich-based Tandem Communications, a subsidiary of Canal+'s film arm StudioCanal, is producing the show with Canadian Rossetta Media. The series, which is due to shoot this summer in London, revolves around a man whose orderly existence is sent into disarray when his outlaw brother crashes into his life, embroiling him in London's underground crime scene. French director Pascal Chaumeil, best known internationally for Vanessa Paradis-starrer Heartbreaker and A Long Way Down, is attached to direct the first two episodes. The companies said casting announcements would be made shortly.
Keshet's game show format BOOM! heads to Spain
Israeli Keshet International continues to rack up sales on its game show format BOOM!, in which a team of four players must defuse eight replica bombs by answering trivia questions within a strict time limit. The company announced on Tuesday (8) it had sold the show to Spanish network Atresmedia. The deal came on hot on the heels of sales to the US (Fox) and France (TF1). The show made its debut in Israel on April 3, drawing some 41.2% of the audience share, making it the highest-rated game show launch ever in the country, according to Keshet.
Tele München takes German rights on Syfy's Olympus
The Munich-based entertainment company announced it had taken rights on Great Point Media's recently announced Greek myths-inspired Olympus, which is due to air on US genre channel Syfy in 2015. The show is been written by Nick Willing and executive produced by respected industry veteran Robert Halmi.
Mexican telenovelas to be adapted for Malaysian market
Spanish-language programming producer Azteca, South East Asia's pay-TV broadcaster Astro and Malaysian production house Global Station signed a memorandum of understanding for the production and distribution of telenovelas. Under the deal, Astro and Global Station will co-produce Azteca telenovela formats for Malaysian and regional audiences. Azteca will handle international distribution.
Discovery Communications invests in DOGTV
Pay-TV programmer Digital Communications announced it would invest in the world's first canine network DOGTV, aimed at home-alone-pets. Under the deal, Discovery will both finance the network's expansion plans and also collaborate with its Animal Planet channel. "More than 40m American households own dogs, and they are spending more than $55.8bn annually on their pets. It's a thriving industry," said Yossi Uzrad, chairman of DOGTV.
The company recently opened a North American headquarters in Silicon Valley and has expanded into South Korea and is planning a Japanese launch.
"DOGTV is a proven tool for relieving stress and anxiety for stay-at-home dogs, and a partnership with Discovery will help accelerate the network's growth, while making DOGTV even more accessible to dog owners," added Gilad Neumann, DOGTV CEO.
DAY 3 UPCOMING HIGHLIGHTS
Speakers at MIPTV on Wednesday (9) include Amazon Studios director Roy Price, who will talk about Amazon's foray into drama production and its slate of upcoming shows. MIPTV will also host its inaugural MIP Digital Fronts event showcasing online content on platforms such as YouTube and Dailymotion as well as the work of digital production houses Maker Studios and Vice.