Dir: Julian Schnabel. France-Israel-Italy. 2010. 112mins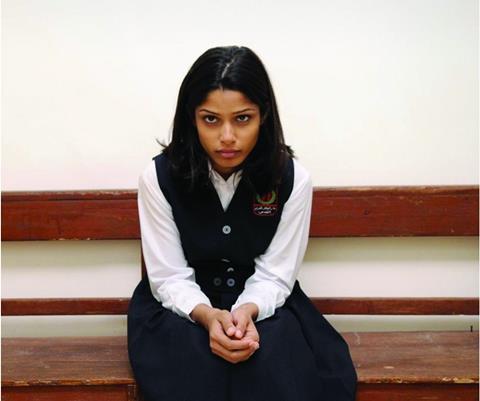 Julian Schnabal's sincere and thought-provoking film Miral is a film rich in compassion and drama, telling the story of three generations of Palestinian women whose lives intertwine as their search for a form of hope and justice set against the backdrop of a country torn apart for conflict.
The central performances by Freida Pinto and Hiam Abbass are powerfully impressive.
With a script by Rula Jebreal, based on her book of the same name, it is a film that demands attention – and answers – though suffers from rather pedestrian pacing and some unconvincing dialogue. The central performances, though, by Freida Pinto and Hiam Abbass are powerfully impressive, and it is a film that will find supportive reviews and an appreciative (though probably only arthouse) audience.
The film opens in war-torn Jerusalem in 1948, while Hind Husseini (Hiam Abbass) coming across 55 orphaned children terrified in the street. She takes then to her family home and offers shelter, and within six months the number of children grows to almost 2000.
She turns her family home into the Dar Al-Tifl Al-Arabi Institute, a school providing hope and education to orphans, and especially girls, impacted on by the Israeli-Palestinian conflict.
Hind and her school provide the thread that runs through the film. In 1978, following her mother's suicide, seven year-old Miral arrives at the school, and later as a well-educated 17 year-old (Freida Pinto) she is assigned to teach at a refugee camp for victims of the Seven Day War.
But Miral becomes increasingly politcised, raging against both her cleric father (Alexander Siddig) and Hind. She falls in love with PLO activist Hani (Omar Metwally), finding herself torn between taking more practical action or following in Hind's belief that education will pave the way to peace.
Miral impressively tells the story of a terribly turbulent period from the viewpoint of a series of women – sections also deal with Miral's troubled mother Nadia (Yasmine Al Masseri) who runs from a brutal household but never finds peace, along with nurse Fatima (Ruba Blal) who becomes a would-be terrorist and befriends Nadia in prison – and offers a fascinating perspective to a complex situation.
Schnabel films with a real sense of compassion – though some blurred camera-shots are ill-judged – and draws impressive performances from his cast. Frieda Pinto (Oscar-nominated for her performance in Slumdog Millionaire) is brilliant as the passionate and intelligent young woman forced into a need to find answers after she witnesses the injustices of the refugee camps. She just gets better and better.
And Hiam Abbass is striking as Hind, a real character whose amazing story deserves the attention. She is especially striking in the early scenes as she establishes the school (scenes that feature rather superfluous cameos from Vanessa Redgrave and Willem Dafoe), though as her character gets older (grey hair and big glasses) she resorts to shouting rather than speaking her lines.
There is a niggling sense that there are times when Rula Jebreal's dialogue feels more like recitations or speeches from a book rather than fully formed dialogue, but it is clear that Miral is partly her story and perhaps those niggles can be understood.
Production companies: Pathe, ER Productions, Eagle Pictures, India Take One Productions, Canal +, Cinecinema
International sales: Pathe International, www.patheinternational.com
Producer: Jon Kilik
Executive producer: Francois-Xavier Decraene
Co-producer: Eran Riklis
Screenplay: Rula Jebreal, based on her novel Miral
Cinematography: Eric Gautier
Production designer: Yoel Herzberg
Editor: Juliette Welfling
Main cast: Hiam Abbass, Freida Pinto, Yasmine Al Massri, Ruba Blal, Alexander Siddig, Omar Metwally, Stella Schnabel, Willem Dafoe, Vanessa Redgrave