CHINA BOX OFFICE: Paramount's Mission Impossible: Rogue Nation grossed $86.42m in six days, while Monster Hunt has become the biggest-ever film in China.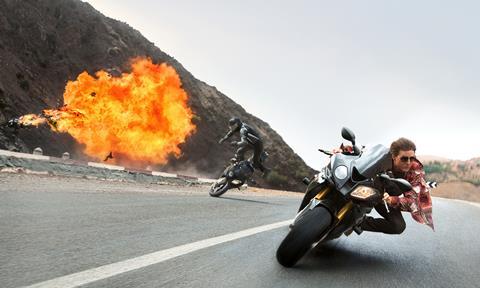 Released on September 8, Mission Impossible: Rogue Nation was the second Hollywood tent-pole to open after the two-month summer blackout of foreign films.
The film's $86.42m haul in six days - according to EntGroup figures - marks the biggest debut in China for the 20-year-old action franchise and the biggest debut for a Tom Cruise film.
Jack Ma's Alibaba Pictures, the filmmaking arm of ecommerce giant Alibaba, is an investor in the film as well as the official promotional partner for China.
Cruise, along with director Christopher McQuarrie and actress Rebecca Ferguson, visited Beijing and Shanghai to promote the film.
Universal animation Minions also had a big opening, grossing $18.85m and taking second place for the week September 7-13, after just one day on release (Sep 13).
Directed by Cao Baoping, local police thriller The Dead End held onto third place with $4.84m for a cume of $46.75m after 18 days, while Terminator Genisys slipped from second to fourth position but still raked in $4.17m for a cume of $113.24m after 22 days.
Monster Hunt remained in fifth place with $2.8m for a cume of $381.86m after 60 days. Edko Films' hybrid of live action and visual effects has finally surpassed Furious 7 to become the highest-grossing film ever in China.
Homegrown war movie The Hundred Regiments Offensive dropped significantly from the top spot to sixth position with $1.37m for a cume of $62.32m after 17 days. It was followed by Johnnie To's musical Office, which took $0.63m for a cume of $7.4m after 12 days; Brazilian-French 3D documentary Amazonia, which took $0.6m for a cume of $2.34m after 10 days; and Han Yan's Go Away Mr Tumour, which took $0.59m to reach a cume of $80.12m after 32 days.
Rounding out the top ten was Fly To The Venus, which grossed $0.58m over its three-day opening weekend. The new release is a Chinese romance fantasy film directed by Deng Ke and produced by Orange Sky Golden Harvest Entertainment.