The killing of a black man by white cops reverberates through an entire community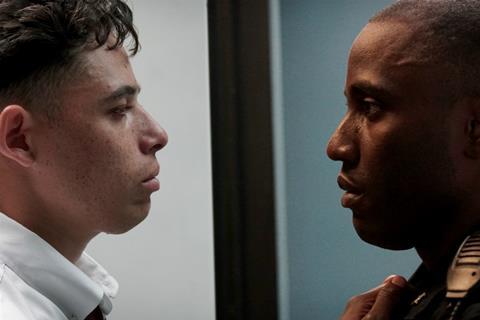 Dir/scr: Reinaldo Marcus Green. US, 95 min. 2017
The police killing of an unarmed black man—an all-too-familiar occurrence and narrative trope—is the inciting incident of this surprisingly fresh and deft debut feature from shorts filmmaker Reinaldo Marcus Green (whose Stone Cars played at Cannes 2014 and Stop screened at Sundance 2015). Green fulfills on his promise as an emerging filmmaker-to-watch, delivering a compelling and emotionally honest tripartite narrative about three men in Brooklyn who've all been impacted by the violent incident and must make an irrevocable choice.
Monsters and Men breathes enough life into its characters and settings to keep it from feeling heavy-handed
With strong performances, smart directorial choices and an unexpected story structure, Monsters and Men transcends its run-of-the-mill Law & Order-like premise. Nevertheless, it will be a challenge for the film to break out of the social-issue box in which it is set, both in the U.S., where such stories have reached a saturation point, and the international market, where the topic has never been particularly resonant to begin with. Still, worldwide festivals, agents and broadcasters with an eye for new talent should definitely take a look at this solid calling card.
Set in a sun-dappled Bed-Stuy neighborhood (also the setting of Spike Lee's Do the Right Thing), the film is split into three parts. The first follows Manny Ortega (Anthony Ramos), a young man with a family and a new job who finds himself an unexpected witness to the murder and records it on his cellphone. Pressured by the cops and his family, who both want him to keep quiet, Manny must decide whether to stay silent or make the video public and take a stand against injustice.
The second part focuses on Dennis (John David Washington, son of Denzel), a black cop who works in the same precinct as the officers who took part in the killing. Similarly conflicted and caught between retaining his comfortable lifestyle or speaking out against corruption, the officer finds himself at a pivotal crossroads.
In the third section, a local high-school student (Kelvin Harrison, Jr.) with the talent and aspirations to be a professional baseball player, must also make a crucial decision; to stay focused on his sports dream or participate in the growing protest movement around the killing and make a change in his community. Complacency or political action? Such is the schematic choice offered to the film's three protagonists. But by film's end, Green allows for a more nuanced answer to their double bind.
Still, some of the script telegraphs too much about the issues that Green wants to tackle (the moral complexities for people of color; one's duty to family vs. the struggle; institutional racism). There's perhaps one too many scenes of intimidating and unsympathetic white cops and an unnecessary moment when the young baseball player watches white kids in the locker room ignorantly praising the police's murderous actions.
But for the most part, Monsters and Men breathes enough life into its characters and settings to keep it from feeling heavy-handed. Ramos' Manny is so enormously sympathetic that when his character's story ends, you wish he'd come back. Following Manny, Washington's Dennis is also a riveting look at the contradictions of being an African American police officer, sworn to protect his community at the same time as he remains complicit in their oppression. Tough on the outside, he's all turmoil on the inside.
Perhaps the best moment in the movie is a silent exchange of looks between Dennis and a female African American Federal oversight agent, who is investigating the murder. When he remains tight-lipped, she lowers her gaze at him in a powerful instance of judgement and awareness of the larger issues at stake.
Such are the highlights of Monsters and Men; when we aren't told about racial pressures but experience them in small, minute details. Adept handheld camerawork, seen in key moments on the streets or in their warmly lit living spaces, beautifully capture the characters' faces and realities. If Spike Lee's Bed-Stuy was a brightly-colored, comic-book hip-hop vision, Green's is an authentic and genuine space, of communal street corners and close-knit families, where the residents, after all these years, are still trying to do the right thing — even if the society doesn't.
Production Companies: Sight Unseen, Department of Motion Pictures
International Sales: Endeavor Content
Producers: Elizabeth Lodge Stepp, Josh Penn, Eddie Vaisman, Julia Lebedev, Luca Borghese
Executive Producers: Leonid Lebedev, Oren Moverman, Chiara Bernasconi, Charles Miller
Cinematographer: Patrick Scola
Editors: Justin Chan, Scott Cummings
Production Designer: Scott Dougan
Composer: Kris Bowers
Main Cast: John David Washington, Anthony Ramos, Kelvin Harrison Jr., Chanté Adams, Nicole Beharie, Rob Morgan