Dir/scr: Gareth Edwards. UK. 2010. 97mins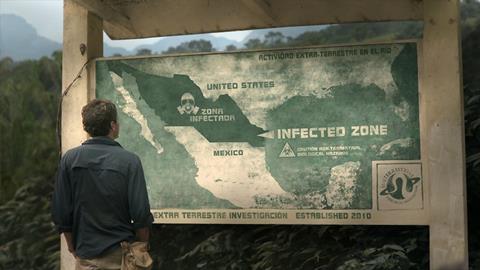 British creature-feature Monsters might well be a low-budget affair, but you'd never guess it. It is an impressively assured debut for writer/director Gareth Edwards that succeeds on pretty much every score (performance, story, effects, locations are all spot-on) and looks set to a real break-out hit.
It is an intelligent sci-fi film that is absorbing, thrilling and ultimately moving.
The film screened as a work-in-progress at SXSW, but since then Edwards has trimmed six minutes and polished the CGI effects, resulting in a film that excited buyers at its Cannes market screenings. The film proper receives its European premiere at the Taormina and Edinburgh film festivals.
While the film's title is a clear indication of what the film is about, it doesn't tell the whole story. The film is in fact a clever and subtle blending of the best of District 9 and Cloverfield, with a believable love story thrown in for good measure. It is an intelligent sci-fi film that is absorbing, thrilling and ultimately moving.
Monsters opens with an introduction stating that a NASA probe bringing life forms back to Earth crashed on re-entry over Central America. Soon after creatures start to appear and half of Mexico is quarantined and declared an 'infected zone'.
American photojournalist Kaulder (Scoot McNairy, who starred in In Search of a Midnight Kiss) is ordered by his publisher to escort his daughter Sam (Whitney Able) back to the safety of the US border. The pair grudgingly get to know each other as they struggle to find a way home, eventually paying for an armed escort to take them through the infected zone.
Their road trip through the badlands includes car, boat and eventually a hike up through a dangerous jungle region, with the creatures – initially only glimpsed a la Cloverfield in vague shots and via television footage – getting ever closer. The scenes are all beautifully shot (writer-director Gareth Edwards also acts as cameraman), with the river scenes especially effective, and a scene of the couple a top an ancient temple as sun rises quietly powerful.
The creatures themselves, when finally revealed, are 50-foot tall beasties, all tentacles and legs, that have a certain mesmerising majesty as well as being rather dangerous.
While Monsters does draw comparisons with District 9 and Cloverfield, in some ways it is closer to the 1934 Frank Capra classic It Happened One Night…except that it has tentacled creatures! Monsters is no action-packed creature flick – rather it is a tender, amusing, honest and ultimately a movingly romantic road movie…except that this couple happen to fall in love against the backdrop of an alien infestation.
Real-life couple McNairy and Able are engaging and convincing as the couple drawn together through dangerous circumstances, while the rest of director Edwards' cast are all amateurs that he found while shooting. And pretty darn good they are too, especially Mario Zuniga Benavides who plays a shifty and amusing guy selling ferry tickets.
The effects work – also handled by the multi-talented Edwards – is terrific. The monsters themselves are more than fine, but really impressive are the more subtle effects work (the massive wall protecting the US, tanks on the streets and the debris after creature attacks) that help provide the convincing framework for the story.
Monsters is a modestly staged but ultimately rewarding film that deserves to break out. The title may be a slight hindrance when it comes to marketing a film that is in no way a horror flick and is more sci-fi romance than sci-fi chiller, but good word of mouth and critical support is likely to help any release.
Production company: Vertigo Films
International sales: Protagonist Pictures, www.protagonistpictures.com
Producers: James Richardson, Allan Niblo
Executive producers: Nigel Williams, Nick Love, Rupert Preston
Cinematography/production designer: Gareth Edwards
Editor: Colin Goudie
Music: Jon Hopkins
Main cast: Scoot McNairy, Whitney Able