Dir: Stephen Schesch. Germany-Ireland-France. 2012. 92mins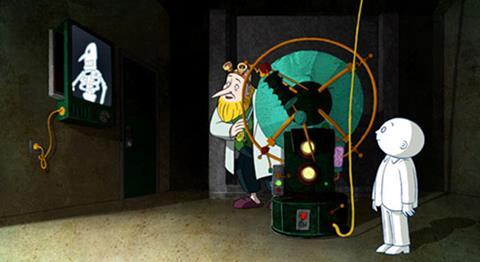 Gently engaging and resolutely warm-hearted Euro animation Moon Man (Der Mondmann, or Jean de la lune) may be too unsophisticated for youngsters weaned on Disney and Pixar, but could well appeal to those families brought up on Tomi Ungerer's children's picture book of the same name.
The animation is impressively true to Ungerer's style.
The film, which screened at the Reykjavik and Abu Dhabi Film Festivals is perhaps a wee bit too long to entrance the very young (and it lacks the knowing satire and in-jokes that define recent animated successes) but it is made with a lot of style and shows respect and affection for Ungerer's colourful art work.
Poor old Moon Man (voiced by Katharina Thalbach) gets rather bored being all alone in the sky, and with the aid of a passing comet hitches a lift to Earth, only to find his arrival is deemed an aggressive act from outer-space.
It seems the Earth has been subjugated by the tall, smug, President and who now wants to turn his attentions to the Moon. He sends his troops out to search for the Moon Man, who is rather enchanted by strange new noises and the colours around him.
Luckily, though, the children of the Earth miss the reassuring Moon Man in the night sky and seek to aid him with the assistance of a genial scientist who lives in a castle by the sea.
The animation - by Irish animators Fabian Erlinghauser (The Secret Of Kells), Sean McCarron (Song Of The Sea) and Marie Thorhauge (Old Fangs) – is impressively true to Ungerer's style (and the author/illustrator was a consultant on the film) and there are some delightfully quirky moments… certainly enough to prove that 2D animation isn't dead.
Production companies: Schesch Filmkreation , Le Pacte, Cartoon Saloon
International sales: Le Pacte, Paris
Producer: Stephan Schesch
Co-producers: Jean Labadie, Paul Young, Ross Murray
Co-director/editor: Sarah Clara Weber
Screenplay: Stephen Schesch, Ralph Martin, based on the children's book Moon Man by Tomi Ungerer
Cinematography: Gyula Szabo
Main cast: (voices) Katharina Thalbach, Pat Laffan, Michael McElhatton, Paul McCloone, Taylor Mooney. Narrator: Tomi Ungerer