Dir: Wip Vernooij. UK. 2013. 81mins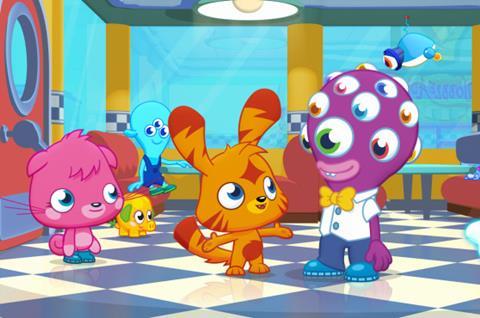 The invasion of the Moshi Monsters begins in the UK this December with the theatrical release of the first animated film based on the worldwide children's online phenomenon. It is a film that makes no bones about being aimed fair-and-square at its youthful audience, and while there is little here for reluctant adult attendees to appreciate (apart from an engaging Indiana Jones tribute) the film hits the sweet spot in terms of appealing the hordes of Moshi Monsters fans.
The animation style is glossy and eye-candy for youngsters.
With more than 80 million registered users in 150 worldwide territories it is easy to see why Universal is keep to get on board the Moshi Monsters bandwagon. The brand is an on-line world where children aged between six and 12 can adopt pet monsters.
They chose from one of six virtual pet monsters that they can adopt, customise and nurture. Players can navigate their way around Monstro City with their pet, taking the daily puzzle challenge to earn 'Rox' (virtual currency), playing games, solving Super Moshi Missions, personalising their room, showing off their artwork, reading stories and communicating with friends in a safe environment.
Originating in the UK (the film is also animated in the UK, despite its characters on film favouring a mid-Atlantic kind of accent) the merchandising and licensing of Moshi Monsters (as well as attendant music and videos) proved so popular that a move to the big screen – and likely hefty home entertainment life – was a natural move. The young fans know the characters well, which naturally saves any need for scene-setting and background development. When it comes to Moshi Monsters: The Movie it is colourful – and rather terrifyingly innocent – entertainment all of the way.
Naturally enough the storyline is pretty straightforward – there are complex plot-twists or insightful subtext going on here – though it does open with a scene that will appeal to adults as in the best tradition of Raiders Of The Lost Ark a golden egg is found in a secret cave…an egg that may contain a new Moshi Monster.
The story then switches to the adventures of big-headed but well-meaning Katsuma (voiced by Emma Tate) and cute-but-brave Poppet (Phillipa Alexander) , as well as other Moshi Monsters (including the very eager Mr Snoodle) find themselves in an action-packed (and occasionally song-filled) race against time to stop evil (well, quite evil…this is a kid's fantasy world) Dr Strangelove (Ashley Slater) and his sidekick Fishlips (Boris Hiestand) from destroying that newly discovered Great Moshling Egg.
The switch from on-line to the big screen meant that the Moshi characters had to be given real voices – as compared to the incomprehensible gobbledegook they use in-game – and while Moshi Monsters is a British invention the voices (and aspects of the on-screen backdrops, such as the oh-so familiar diner) place the story very much in the US, presumably in bid to reinforce international accessibility. In truth, though, it matters little since it is all so colourful, breezy and tuneful that the setting rarely matters.
The animation style is glossy and eye-candy for youngsters – apparently it is animated in Celaction with many of the background elements in 3D – with emphasis on basic styles and bright colours. It is also very manipulative and simple, but certainly appeals to youngsters who are enraptured by the Moshi Monsters' antics.
Production company: Mind Candy
Distribution: Universal Pictures
Producers: Jocelyn Stevenson, Giles Healy
Executive producers: Darran Garnham, Divinia Knowles, Michael Acton Smith
Screenplay: Jocelyn Stevenson, Steve Cleverley
Editor: Mark Edwards
Music: Sanj Sen
Website: www.moshimovie.com
Main cast (voices): Ashley Slater, Tom Clarke Hill, Phillipa Alexander, Emma Tate, Keith Wickham, Boris Hiestand, Rajesh David