Dir. Julian Kemp. UK. 2009. 87mins.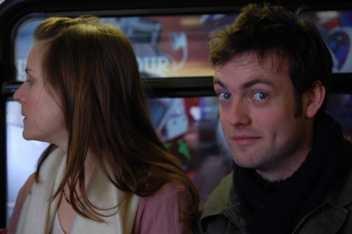 A lot of effort went into making this film, which Kemp adapted from Alain de Botton's book, Essays on Love (US title: On Love), and it's all up there on the screen. He shot 320 scenes in 80 different locations, although much is set in London's Marylebone. The movie is a catalogue of cinematic grammar, although perhaps gimmickry is a more appropriate term. It encompasses everything from the maniacal—rapid editing, step printing, animation, a moving camera—to more sedate devices, including superimposition, freeze frames, and a clip from Brief Encounter.
Unfortunately, in the recounting of five successive failed relationships by young London architect Duncan (Patricks), bracketed by his suicide attempt, the techniques become devoid of meaning. Some might consider this potpourri of formal practices postmodern, but one person's postmodernism is another's vacuous mélange. Unless it is fortunate enough to gain cult status, box-office prospects appear slim.
The structure, taken from the novel, is simple: Kemp introduces each girlfriend with a title, such as "No. 1 Wendy." In that particular episode, Duncan meets said young woman on an airplane, and as they converse and flirt, Barbie dolls suddenly appear, followed by the duo's seats detaching from everything else and giving way to a frantic montage. The stage is set for the multiple in-your-face, oneiric scenes that dot an otherwise innocuous exercise in what might have been naturalism, except that pounding music and some overly insistent acting undermine that approach.
Subtlety is sorely lacking. Texts like "Successful sulking: a guide" and "Romantic terrorism" pop up. The reasons for the break-ups are, for the most part, slight in a way that is meant to be funny, but is not: vomiting chocolate on a date or a guy's negative comment on a woman's new pair of shoes, for example. The thread tying the stories together is a fantasy amusement park—one tent is called "Life of Wendy"—that fails both as humour and narrative device.
The most serious of the relationships, with Gemma (Harris), is the most satisfying. With the intention of salvaging their couplehood, they suffer a miserable weekend in Paris; many spectators can relate to such a pathetic effort. She commences an affair with his best friend, and his pain is palpable as he waits for time to heal a broken heart. Again, some viewers will empathise from first-hand experience.
Production companies
Willing + Pilowsky Productions
Wire Films
International sales
Marion Pilowsky
marion.pilowsky@prioritypictures.co.uk
Producers
David Willing
Michael Kelk
Marion Pilowsky
Screenplay
Julian Kemp
Cinematography
Dave Miller
Editor
Julian Kemp
Production design
Kit Line
Music
Marten Joustra
Andy Blythe
Sound design
Penny Hull
Main cast
Brendan Patricks
Naomie Harris
Kelly Adams
Cecile Cassel
Jane March
Edith Bukovics
Daniel Hoffman-Gill