The sensorial cinema of Gabriel Mascaro, who turned the life of a group of cowhands into a poetic experience in Neon Bull (Boi Neon), was the big winner at the 17th edition of Rio de Janeiro's International Film Festival.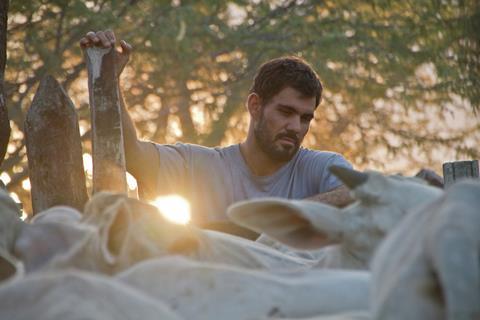 The allegory of the recent economic transformations in Brazil received four Redentor awards on Tuesday night: best film, best screenplay, best cinematography and best supporting actress for Alyne Santana.
Previously the film screened in Venice, where it won the Orizzonti special jury prize, and Toronto.
The best director prize was shared between Ives Rosenfeld's Hopefuls (Aspirantes), a journey of a young amateur football player, and Anita Rocha da Silveira's Kill Me Please (Mate-Me Por Favor), a teen horror film set at a school in Barra de Tijuca. Both works are first features.
The jury headed by the director and cinematographer Walter Carvalho also celebrated Hopefuls with a best actor prize for Ariclenes Barroso and a best supporting actress award for Julia Bernat, who shared the prize with Santana from Neon Bull.
Kill Me Please took home the best actress award as well, thanks to the performance of Valentina Herszage.
Caio Horowicz received the best supporting actor trophy for California, a portrait of adolescence in Sao Paulo in the 80s directed by Marina Person.
Oblivious Memory (Quase Memoria) by veteran Ruy Guerra, best known for Os Cafajestes (1962) and Os Fuzis (1964), won the special jury prize for the story of a man with memory loss who meets a younger version of himself.
The best editing award went to Sandra Kogut's Campo Grande, the drama about two children left behind by their mother.
Premiere Brasil winners:
Best fiction feature
Neon Bull, dir Gabriel Mascaro
Best director
Anita Rocha da Silveira (Kill Me Please) and Ives Rosenfeld (Hopefuls)
Best actress
Valentina Herszage (Kill Me Please)
Best actor
Ariclenes Barroso (Hopefuls)
Best supporting actress
Alyne Santana (Neon Bull) and Julia Bernat (Hopefuls)
Best supporting actor
Caio Horowicz (California)
Best cinematography
Diego Garcia (Neon Bull)
Best editing
Sergio Mekler (Campo Grande)
Best screenplay
Gabriel Mascaro (Neon Bull)
Special jury prize
Oblivious Memory, dir Ruy Guerra
Best documentary
Olmo And The Seagull (Olmo e a Gaivota), dir Petra Costa and Lea Glob
Best director, documentary
Maria Augusta Ramos (Future June/Futuro Junho)
Best short
Bird Skin (Pele de Passaro), dir Clara Peltier
New Trends
Best feature film
Seashore (Beira-Mar), dir Filipe Matzembacher and Marcio Reolon
Best short
October Is Over (Outubro Acabou), dir Karen Akerman and Miguel Seabra Lopes
Special jury prize
Jonah (Jonas), dir Lô Politi
Audience awards
Best fiction feature
Nise The Heart Of Madness (Nise - O Coração da Loucura), dir Roberto Berliner
Best documentary
Betinho - Hope On The Line (Betinho - A Esperança Equilibrista), dir Victor Lopes
Best short
Sheeliton (Até a China), dir Marão
FIPRESCI Best Latin American film
I Promise You Anarchy (Te Prometo Anarquía), dir Julio Hernández Cordón