Prison drama The 4th Company scored nine Mexican Academy Awards in July.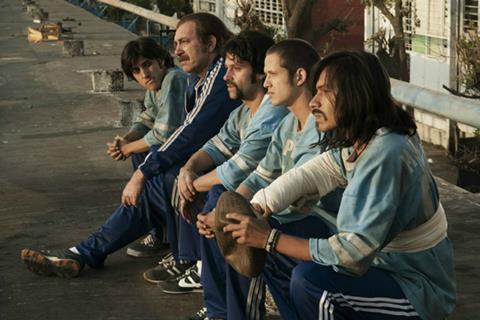 Netflix has struck a global deal for Mexican crime-drama The 4th Company (La 4ta Compania), the hard-hitting prison drama which took nine prizes – including best picture and actor - at the Mexican Academy Awards (Ariels) in July.
Based on a true story, The 4th Company follows members of a 1970s inmate American football team who participate in a crime ring while serving their prison sentences.
The film shot in one of Mexico's most notorious high-security prisons and exposes local and state corruption in the penal system.
The deal, which marks the second global pact between streaming giant Netflix and European sales house The Match Factory (following their deal on Felix Van Groeningen's Belgica), includes a hold back against the Mexican release, which will be handled by a theatrical distributor.
Netflix is due to go day-and-date with the Mexican release in the rest of the world and will release online in Mexico three months later.
Featuring a high body count, the Spanish-language feature is one of the more commercial films on The Match Factory's slate.
Cast includes Adrián Ladrón (Gueros), Hernán Mendoza (After Lucia), Gabino Rodríguez (A Stone's Throw Away), Andoni Gracia and Manuel Ojeda.
Mitzi Vanessa Arreola and Amir Galvan make their directorial debuts on the film, whose journey to screen lasted ten years.
Producers include Monica Lozano (Amores Perros), Eugenio Derbez (Instructions Not Included), Ozcar Ramirez (Days of Grace), Michel Merkt (Elle) and directors Galvan Cervera and Vanessa Arreola, the latter of whom also wrote the script.
The Match Factory MD Michael Weber told Screen: "I think this film can do very well on Netflix. It is an action-driven, beautifully shot story about a prison mafia. It is commercial with good story-telling and high production values."
The film also won best actor and a special jury prize at the 31st Guadalajara Film Festival.
According to HIS, Mexico's digital video market – including subscription (SVOD) and transactional (TVOD) video on demand – grew an estimated 39% in 2016, making Mexico Latin America's second-biggest online video content market (behind Brazil).
Netflix, which crossed 100m global subscriber this year, has commissioned two Mexican Original TV series to date and has aggressively courted Hispanic audiences in Latin America, the US and Spain.
Read Screen's interview with Michael Weber about the The Match Factory's slate and the current market for art-house filmmaking.