Doha Film Institute has hit on a winning formula says filmmakers and top industry experts.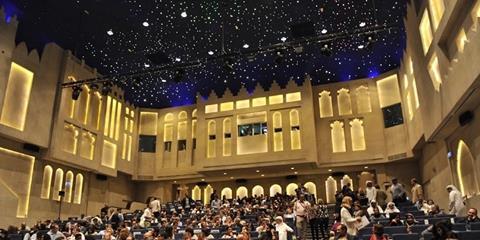 Top industry professionals and emerging filmmakers attending the Doha Film Institute's Qumra meeting last week have given the inaugural meeting the thumbs up.
The bespoke programme welcomed 29 DFI-backed projects for six-days of inspirational master-classes, seminars, work-in-progress screenings and hands-on ones-on-ones with some of the world's top filmmaking talent.
The some 100 industry professionals at Qumra included Toronto International Film Festival artistic director Cameron Bailey, Film and Music Entertainment F&ME CEO Mike Downey, Visit Films founder Ryan Kampe and Jason Kliot of Open City Films.
Kliot said: "I love this formula. I think it's really successful. I've been to all the events - in Rotterdam, Berlin and in New York during independent film week - and I think they all have strengths and weaknesses but what I find here is that the creators have been incredibly intelligent in keeping the event small and contained, the works in progress were extraordinarily impressive. There were a couple of projects I was immediately interested in."
One of the projects he was seeking to help, Kliot revealed, was Lebanese-Egyptian filmmaker Reem Saleh's documentary What Comes Around, exploring life in one of the poorest neighbourhoods of Cairo.
Actor and filmmaker Gael Garcia Bernal — who was one of four "masters" at the meeting, alongside Cristian Mungiu, Abderrahmane Sissako and Danis Tanovic — said it was refreshing to be at an event truly devoted to film and filmmaking.
As part of his role, he gave a masterclass and also mentored three documentary projects, Lebanese Ali Hammoud's Asphalt, about two truck-drivers who regularly cross the Middle East delivering goods; Lebanese Reem Saleh's What Comes Around, Belgian Moroccan Yasmine Kassari's Salaam Plenty, about Afghan emigration to Australia under British colonial rule in the 19th century and its legacy today.
He was also advising Thai director Anocha Suwichakornpong's feature By The Time It Gets Dark, about several characters linked by the memories of a "forgotten" student massacre in Thailand in 1976.
"I love the size and the dynamic of this event. You get to meet people. The masterclasses run two hours – there's time to articulate a few things," said Bernal.
Palme d'Or-winning Romanian director Mungiu was equally enthusiastic about the format.
"The projects are at differing stages. I just tried to be as helpful as possible," said Mungiu. "Some of them I was helping out with the actual creative process of bringing the project together, others I was encouraging them to get on with it rather than waiting for every last bit of the budget to be in place - if you wait for years and years sometimes the initial flavour gets lost."
The Palme d'Or-winning filmmaker spent more than two hours with Azeri director Imamaddin Hasanov's documentary Holy Cow, about a man in a remote village of the Caucasus Mountains who buys a cow against the wishes of his jealous wife, talking through the dynamics of the storyline.
Saudi Arabia filmmaker Haifaa Al Mansour was also in attendance, mentoring several projects including compatriot Shahad Ameen's Scales and Qatari Hend Fakhroo's Parijat.
"This is an amazing experience for any filmmaker just to get to meet all these top professionals and filmmakers, whatever your experience or nationality," said Al Mansour.
Unique opportunity for Qatari filmmakers
Fakhroo was among ten emerging Qatari filmmakers presenting projects at Qumra, alongside directors from the wider Middle East region as well as Asia and Europe.
"Put the best of all festivals and labs and roll them into one sweet baklava, that is Qumra for you," commented Fakhroo on her experiences at the meeting. "I am going to put to use all the input I have gained from Qumra."
The event, she said, had connected her with industry professionals, who would have been beyond her reach and otherwise,
"Where else can I get the opportunity to have an Oscar-winning veteran combing my script?" she explained. "Ten years ago, I could not have dreamt to be sitting with the masters here in Doha. And it helps that the management of the event understands what filmmakers really need."
Fakhroo's Parijat revolves around a London-based Qatari woman who returns home to rescue her family's ailing perfume business, following the death of her grandfather, at the same time as becoming a mother for the first time.
Other Qatari projects at Qumra included Nora Al Subai's fantasy adventure Beyond and actor-turned-filmmaker Khalifa Al-Muraikhi's Sahaab about a group of friends lost in the desert and struggling to retrieve their falcon.
There were also a handful of projects from outside of Qatar and the wider Middle East region.
Alongside works-in-progress Thai Suwichakornpong's feature By The Time It Gets Dark and Azeri Hazanov's Holy Cow, Swedish director Jonas Selberg Augustsen's The Garbage Helicopter and Portuguese Joao Salaviza's Mountain were presented in the Picture Lock section, devoted to projects in the final stages of post-production. "
Salaviza's coming-of-age tale, Mountain, about a 14-year-old boy who is forced to become the man of the house as his grandfather lies dying in hospital, is a Qatari, Portuguese, Spanish co-production, by dint of DFI's support for the project. It is lead produced by Francois d'Artemare's Lisbon-based Filmes do Tejo.
"It's sort of fascinating for me, these unpredictable, unexpected connections with another part of the world, which I would not have imagined possible a few years ago," said Salaviza,
The Qumra programme was devised by DFI CEO Fatma Al Remaihi; the institute's artistic director and Palestinian filmmaker Elia Suleiman as well as the DFI programming team including director of strategy Hanaa Issa, resident filmmaker and programmer Chadi Zeneddine, industry advisor Jovan Marjanovic and head of grants Khalil Benkirane.