Documentary premiered at this year's True/False Film Festival.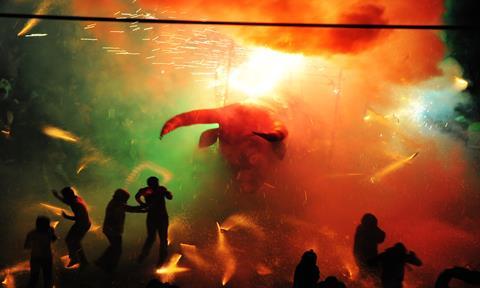 Oscilloscope has acquired North American rights to Viktor Jakovleski's Brimstone & Glory and plan a theatrical release for later this year.
Mongrel is selling international rights to the Court 13 and Department of Motion Pictures production funded by Cinereach.
The National Pyrotechnic Festival in Tultepec, Mexico is a celebration of San Juan de Dios, patron saint of firework makers that engulfs the town for ten days.
Artisans show off their technical virtuosity, up-and-comers create their own displays, and dozens of teams build larger-than-life papier-mâché bulls to parade into the town square, adorned with fireworks that blow up in all directions.
More than three quarters of Tultepec's residents work in pyrotechnics, making the festival more than revelry for revelry's sake.
Jakovleski said: "I couldn't be more thrilled to have Oscilloscope as a partner. Their passion for cinema as a big screen experience is evident in their track record and their shared vision with our whole creative team means so much to me. I am excited and honoured to have them bring Brimstone & Glory to theaters across the US and Canada."
O-Scope's Dan Berger said: "Brimstone & Glory is not just an epic feast for the eyes and the ears (though it is that), it's a brilliant display of portraiture. It introduces us to people and a community - intimately, intensely, and beautifully – and sets the stage for a long career for Viktor. I have no doubt this is just the beginning."
Dan Janvey, Elizabeth Lodge Stepp, Kellen Quinn, Affonso Gonçalves, Benh Zeitlin produced.
Casey Coleman, Antonio 'Tonitzin' Gómez, Viktor Jakovleski, and Erdem Karahan also served as producers.