Ten female directors among 20 projects from 20 countries.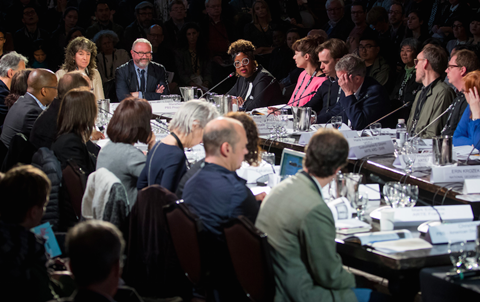 Co-production market Hot Docs Forum and pitch programme Hot Docs Deal Maker wrapped on Wednesday in Toronto with more than $73,000 (C$100,000) awarded in cash prizes.
Twenty projects from 20 countries including 10 female directors and 25 female producers participated in the 2017 Hot Docs Forum.
The inaugural firstlook programme's top prize of $54,800 (C$75,000) went to Malka Films's 93QUEEN directed by Paula Eiselt.
The project follows a group of tenacious Hasidic women who are shattering the glass ceiling in their Brooklyn neighbourhood to create the first all-female volunteer ambulance corps in New York.
The $7,300 (C$10,000) Corus-Hot Docs Forum Pitch Prize went to Michal Weits and Assaf Amir for Blue Box, which chronicles the land grab that led to the creation of Israel told through the diaries of the man who orchestrated it.
The Cuban Hat Award went to 306 Hollywood directed by Elan and Jonathan Bogarín and pitched by Judit Stalter, and Elan and Jonathan Bogarín.
The award was established in 2009 and is decided by ballots collected from Hot Docs Forum Observers, while the cash prize is raised by passing around a hat. Hot Docs will match the $1,222 (C$1,673.06) collected.
The prize includes a Hot Docs All Access pass for 2018, one free Observer Pass for IDFA Forum 2017 in Amsterdam, and a two-hour co-producer / executive producer consultation, among other things.
The Hot Docs Deal Maker session attracted 60 projects pitched to 65 buyers over approximately 700 meetings.
"The 2017 Hot Docs Forum has been a spectacular success," Hot Docs industry programmer and Forum producer Dorota Lech said.
"I am in awe of the courage expressed by our filmmakers and the generosity of spirit from our decision-makers. We cannot wait to see these projects on the big screen!"
Click here for further details. Hot Docs runs through May 7.