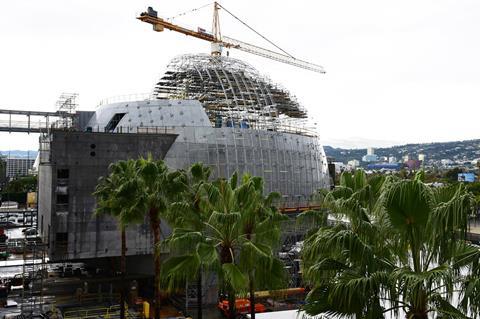 Kerry Brougher is leaving his role as director of the $388m Academy Museum to return to the art world as a drawn-out process nears the end of the construction phase.
"We thank Kerry for his dedicated service on behalf of the Museum," said the Academy Museum board in a statement issued on Monday (Aug. 5). "His work over the last five years on the Museum's construction and in-depth collections well positions us to move into the next phase of this ambitious project.
"Kerry's strong curatorial team will continue to work with us toward the Museum's opening, and a search for a new Museum Director will begin shortly. Our primary goal remains to create the best possible motion picture museum for visitors."
In recognition of Brougher's service, the board has named him founding director. However that cannot hide what has been a far from perfect history for the museum's construction and its ambitious scale of exhibitions. Originally scheduled to open later this year, the date was pushed back to an unspecified time in 2020 after it emerged the board had struggled to raise more than $218m. A leaked memo revealed construction was on course to be completed by September.
"It has been a privilege for me to work with this Board, our donors, the great Renzo Piano, and all of my colleagues who have participated in creating this unique Museum," said Brougher, who previously served as head of Smithsonian's Hirshhorn Museum and Sculpture Garden. "We are just weeks away from completing construction of the buildings, ending the first phase of this project, and our collection has grown substantially. The Miyazaki and Regeneration exhibitions will be the first of their kind. I'm very proud of the work done by our amazing team. Now is the right time for me to pass the baton."