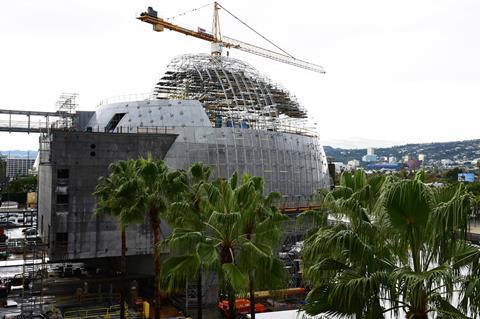 The launch of the Academy Museum has been delayed until sometime in 2020, scuppering plans announced late last year to open the showpiece development by the end of this year.
An Academy Museum spokesperson said the museum committee was "weighing the overall schedule for major industry events in 2020, and on this basis will choose the optimal moment for our official opening."
The Museum, originally announced in 2012, had been scheduled to open in 2017. Last December the committee unveiled the first details of the exhibitions that will reside within the venue, situated in the Miracle Mile district of Los Angeles on the site of the restored Saban Building. The museum costs an estimated $388m and it is understood fundraising continues.
The Academy Museum statement in full: "The Academy Museum's intention is to create a unique and unparalleled museum experience. Achieving this has required a highly complex construction effort–renovating a 1939 LA landmark, building a new spherical structure that includes a 1500-panel glass dome, and joining them together to produce 300,000 square feet of spectacular public and exhibition space.
"At every decision point along the way, we have always chosen the path that would enhance the structure, even if that meant construction would take more time to complete. Similarly, when we were presented with opportunities to expand the scope of our exhibitions, interior spaces, and collection for the visitor experience, we have embraced them.
"As we continue working through the permitting process and move closer to completion, we are weighing the overall schedule for major industry events in 2020, and on this basis will choose the optimal moment for our official opening."