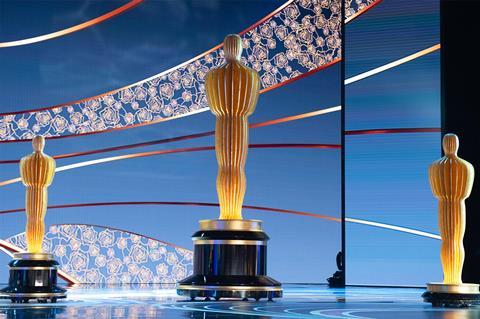 Continuing its shift back to pre-pandemic normality, the US Academy has returned the eligibility period for the Oscars to the full calendar year, and ended the use of its online screening room as a method of qualification.
The changes are among a number of rules and campaign regulations approved by the Academy's Board of Governors for the 95th Academy Awards.
The Academy recently set the 95th Oscar ceremony date at March 12, 2023, two weeks earlier than this year's March 27 event.
Oscar eligibility, extended to February 28, 2021 for 2020 and set at March 1 – December 31 for 2021, will now once again require a feature film to have a qualifying theatrical release date between January 1 and December 31, 2022.
The Academy Screening Room, meanwhile, will no longer be a method of qualification because cinemas have now reopened. The six US metropolitan areas for qualifying releases continue to be Los Angeles County; the City of New York; the Bay Area; Chicago, Illinois; Miami, Florida; and Atlanta, Georgia. The qualification rule applies to general entry Oscar categories and the documentary and short film categories.
In other changes, the names of the documentary categories have been changed to Documentary Feature Film and Documentary Short Film, and in the original song category no more than three songs can be submitted from any one film. In the sound category, producers will be required to make their films available for viewing by Sound Branch members.
Submission deadlines for 2022 have been set at October 3 for the documentary feature and international feature categories; October 14 for the animated short, documentary short and live action short categories; November 1 for the original score and original song categories; and November 15 for animated feature and general entry categories.