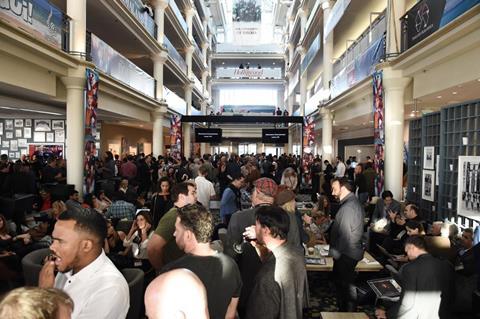 AFM 2021 will run entirely online, switching from the previously planned in-person event in Santa Monica and moving up by one day from November 1-5.
The move follows a decision by the Independent Film & Television Alliance (IFTA) board on Thursday morning (August 26) and comes as the Delta variant continues to surge across the United States and the rest of the world.
Many US sellers and filmmakers have been telling Screen the AFM would be their first physical attendance at a festival or market since the EFM in Berlin in February 2020. Buyers sent smaller teams to physical events since Venice and other festivals last year.
Of the major markets last year Cannes Marché du Film and Hong Kong's Filmart pivoted to online iterations, while Toronto operated as a mostly virtual event and AFM also ran entirely online.
There were hopes this year would be different after vaccination roll-outs began. However with the rise of Delta and a restrictive US border policy still in place an in-person event in the US was always going to present challenges for attendees who were neither citizens nor permanent residents.
Berlin's EFM switched to a fully online event and Filmart returned as a virtual event for the second year in a row. Cannes Film Festival staged a physical event in July alongside a limited in-person market, several weeks after the virtual market. Venice is scheduled to run once again as a physical event and Toronto plans to go ahead as a mostly in-person festival where organisers hope to receive international attendees after Canada relaxed border restrictions. AFM had been set up as a physical event until Thursday's announcement.
AFM 2021 Online will use the same interactive campus established at last year's virtual event to accommodate screenings, the Networking Pavilion, conferences, panels and workshops, and LocationEXPO.
"We wish we could welcome the global industry back to Santa Monica but travel regulations, increased concerns about coronavirus variants around the world, and government restrictions on the ground prevent us from moving forward," said Michael Ryan, IFTA chairperson and GFM Films partner. "However, IFTA is thrilled to host the market the industry expects – where no one will be excluded and all of our stakeholders can immerse themselves for five days dedicated to deal-making, discovery, education, and reconnecting."