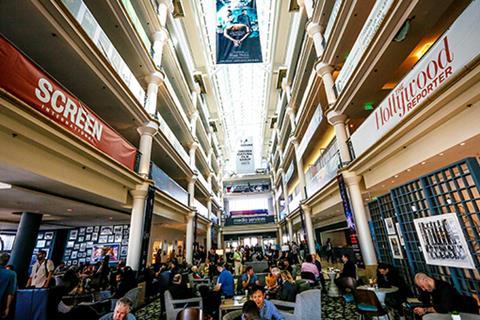 AFM leadership on Tuesday (October 6) announced an outline of events at its upcoming online edition from November 9-13 including
AFM Online will present an interactive market experience featuring eight dedicated areas.
The Networking Pavilion will provide a forum of more than 100 video discussions with small groups on an hourly basis to replace face-to-face physical meetings and encounters that occur spontaneously on the AFM floor.
The market is also hosting conference and educational programming online, Attendees will be able to access a record 80+ live sessions and hear from more than 200 speakers on panels, workshops, conversations and presentations throughout the market.
On-demand playback will be available for participants.
Sessions will focus on finance, production and distribution during the pandemic, and partners include AAFCA, BFI, The Film Collaborative, NAACP, NALIO, Outfest, SAG-AFTRA, SAGindie, The Black List, USC Annenberg Hollywood, Healthy & Society, WGAW, and Winston Baker.
Other highlights of the online iteration include: MyAFM (where attendees can create profiles, meet and communicate with other participants, and engage in Zoom meetings from inside the platform); Industry Offices housing sales and production companies; LocationEXPO, home to film commissions and production facilities; On-Demand Theatre for market screenings; two AFM stages for conference and programming; and an info centre to conduct video chats with the market's customer service team.
As previously announced, all accredited buyers will receive complimentary credentials to AFM 2020 Online until October 23.
So far, AFM leadership said more than 1,000 buyers from 70 countries are confirmed.
More than 300 exhibitors from 35+ countries have already registered, including AGC Studios, Arclight Films, Cornerstone, GAGA Corporation, Gaumont, Lionsgate, Millennium Media, Mister Smith Entertainment, Protagonist Pictures, Sierra/Affinity, Solstice Studios, Studiocanal, The Exchange, TrustNordisk, and XYZ Films.
The United States has the biggest exhibitor presence with 132 companies followed by Russia (26), the UK (22), France (14), and Germany (12).
Further details will be announced in the coming weeks. Visit the official website for more information and registration.