EXCLUSIVE: French sales champion says he has "no intention" of leaving the company he helped build.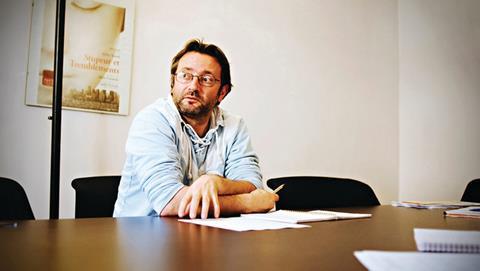 Wild Bunch co-chief Vincent Maraval has denied persistent rumours he is on the verge of departing the Paris-based film company he helped found more than 15 years ago.
The veteran sales champion has been heavily involved in the setting up of Wild Bunch's Los Angeles-based offshoot Insiders and related sales outfit IMR – a joint venture between Insiders and MadRiver Pictures – over the last 18 months.
His resulting absence from Wild Bunch's Paris HQ has stoked suggestions that he may be planning to cut loose from the company and transfer to Los Angeles. But speaking to Screen during the AFM, Maraval said nothing could be further from the truth.
"It's normal that when you launch a new activity, you dedicate extra time to it," said Maraval. "It's true, I'm spending more time in Los Angeles than Paris at the moment but I have no plans to move there."
"Wild Bunch is the biggest shareholder in Insiders with a 45% stake. Wild Bunch still pays my salary and I have no personal shares in Insiders. I can't say I will be with Wild Bunch for life but I have no intention of leaving. There would be no upside for me."
Maraval launched Insiders in 2015 in response to Wild Bunch's shift away from international sales to distribution following its merger with German distributor Senator in 2014 and the entry of investment group Sapinda as a key backer.
The company is now more focused on building the slates of its distribution outfits in France, Germany, Italy and Spain with a long-term goal of building a sizeable, all-rights pan-European library that would make it a future power player in the world of digital distribution.
"My passion is international sales. It's why I am involved in this business. It's where I came from. It's my profession and my international network is connected to that," said Maraval. "The creation of Insiders enabled me to carry on that passion within Wild Bunch."
He explained the creation of Insiders was born out of conversations with his contacts in Los Angeles who suggested the market was lacking experienced international sales agents specialised in selling independent films above $15m and financed by third-party equity partners.
Other stakeholders in the fledgling company include French producer Marc Dujardin of Cine France, China's Bliss Media and long-time collaborators, banker-turned-producer Agnès Mentre, Pascal Caucheteux of Why Not Productions and Richard Grandpierre at Eskwad.
The creation of IMR with MadRivers, announced during Cannes 2016, came out of a shared vision with MadRiver founder Marc Butan and company partner Kim Fox and had enabled Insiders to quickly establish a presence in Los Angeles without setting an office up from scratch.
"Selling projects financed through equity partners is different from selling a project you've financed yourself – as we've historically done at Wild Bunch. It requires more reporting. You can't make a snap decision, it requires time."
The current slate includes the upcoming David Robert Mitchell's Under The Silver Lake and Deniz Gamze Ergüven's Kings as well as completed awards-season contenders Jackie and Loving.
Role unchanged
In the backdrop, Maraval continues to acquire French and international projects for Wild Bunch's international sales slate.
"I continue to handle Wild Bunch's international sales acquisitions, market them and oversee the editorial line. If I can get the French distribution rights for films I love, I do and I also acquire Italy, Spain and Germany too. My role hasn't changed."
Although Wild Bunch has refocused its resources on distribution, the international sales team remains a key financier of independent cinema in terms of putting minimum guarantees on the table, he added.
"The Wild Bunch international sales operation continues to invest some €10m [$11m] to €15m [$16.6m] in MGs each year. There aren't many other companies doing that. Wild Bunch remains one of the top international films houses in terms of the MGs it pays out for productions which are not in-house," said Maraval.
Titles on the international sales slate in 2016 included Oliver Stone's Snowden, Ken Loach's Palme d'Or winner I, Daniel Blake, Bertrand Bonello's Nocturama, Nicolas Winding Refn's Neon Demon (co-sold with Gaumont), Sony Pictures Classics acquisition The Red Turtle, Kore-eda Hirokazu's After The Storm, Cristian Mungiu's Graduation, Stéphane Di Giusto's debut feature The Dancer, Radu Mihaileanu's The History Of Love and Terrence Malick's Voyage Of Time.
Upcoming films on Wild Bunch's international slate include 2017 Cannes hopefuls Michel Hazanavicius' Jean-Luc Godard tribute Redoubtable, Arnaud Desplechin's Ismael's Ghosts and Claire Denis' High Life, starring Robert Pattinson, Patricia Arquette and Mia Goth.
As per Wild Bunch tradition, Maraval will be announcing another slew of French titles ahead of Unifrance's annual Rendez-vous meeting in Paris in January.