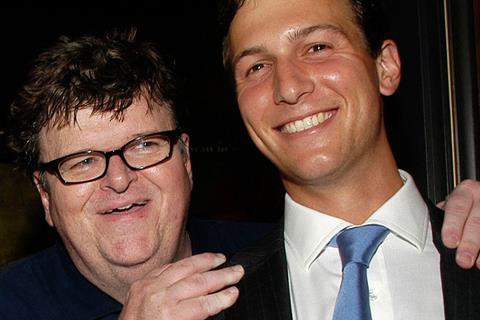 AGC International, the sales and distribution arm of Stuart Ford's AGC Studios, has picked up sales rights outside North America to Michael Moore's hot-button documentary Fahrenheit 11/9 ahead of its world premiere in Toronto next month.
Ford and his team head to Toronto on the back of a successful inaugural Cannes, where the British CEO and Michael Rothstein, his president of worldwide distribution and one of several former IM Global lieutenants who migrated with Ford to the new venture, sold out on two of the biggest titles in the market – Roland Emmerich Second World War film Midway and LAIKA animation Missing Link.
In TIFF Docs opener Fahrenheit 11/9 Moore explores life in the United States under president Donald Trump. The title refers to the day after the businesman and reality TV star was elected to the White House – November 9, 2016 – and is a neat play on the title of Moore's infamous Palme d-Or-winning R-rated 2004 release Fahrenheit 9/11.
That film investigated the causes of the US wars in Iraq and Afghanistan, and remains by far the highest grossing documentary of all time on $119.2m in North America and $222.4m worldwide.
Fahrenheit 11/9 is scheduled to open in North America on September 21 via Briarcliff Entertainment. The documentary had been set to open worldwide through The Weinstein Company before Harvey Weinstein became engulfed in the biggest sex scandal ever to hit Hollywood and his company collapsed.
Briarcliff Entertainment is led by Tom Ortenberg, a former executive at The Weinstein Company who worked with Moore on the North American release of Fahrenheit 9/11 while at Lionsgate, and whose former company Open Road was absorbed under the Global Road Entertainment umbrella alongside IM Global.
Fahrenheit 11/9 will receive its world premiere on September 6.