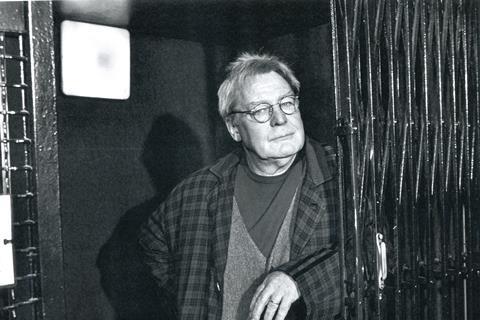 Acclaimed UK filmmaker Alan Parker died this morning (July 31) following a lengthy illness.
Parker was one of the UK's most acclaimed and successful filmmakers, with a body of work including Bugsy Malone, Midnight Express, Mississippi Burning, The Commitments, Evita, Fame, Birdy, Angel Heart and Angela's Ashes. His films won a combined 19 Baftas, 10 Golden Globes and 10 Oscars.
Parker was a passionate supporter of the UK film industry and was a founding member of the Directors Guild of Great Britain, the founding chairman of the UK Film Council in 2000 (a position he held for five years), and chairman of the BFI from 1998-99.
Parker was born in Islington, London on February 14, 1944 and began his career in advertising as a copywriter before graduating into directing commercials. By the late 1960s he was one of a hugely influential group of British directors (alongside Ridley Scott, Hugh Hudson and Adrian Lyne) who revolutionised TV advertising by using cinema aesthetics for the first time.
In 1974, he moved into long-form drama when he directed BBC film The Evacuees, for which he won a Bafta award for direction; the first of his seven Baftas.
Parker's first feature was children's classic Bugsy Malone in 1975 (produced by Alan Marshall and co-executive produced by David Puttnam) which received eight Bafta nominations, winning five.
He followed it up with controversial prison drama Midnight Express in 1977, which earned six Oscar nominations, including a best director nod; and smash-hit musical Fame in 1979, which won two Oscars and was adapted into a long-running television series.
His 1980s projects included family drama Shoot The Moon starring Diane Keaton and Albert Finney; rock-opera Pink Floyd – The Wall; Birdy with Nicolas Cage and Matthew Modine; and occult thriller Angel Heart starring Mickey Rourke and Robert De Niro, which was controversially given an 'X' rating by the MPAA.
Parker rounded out the decade with civil rights drama Mississippi Burning, with Gene Hackman and Willem Dafoe, which was nominated for seven Academy Awards, including best director, as well as five Baftas.
Parker kicked off the 1990s with cult classic The Commitments; and followed it up with The Road To Wellville in 1993, starring Anthony Hopkins, Bridget Fonda; and Evita in 1996, based on the hit stage musical. It went on to win three golden globes including best picture. He finished the decade with Angela's Ashes, based on the Pulitzer Prize-winning memoir by Frank McCourt and starring Emily Watson and Robert Carlyle.
Parker's last film was death row drama The Life Of David Gale, with Kate Winslet, Kevin Spacey and Laura Linney, in 2003.
His many honours include the Michael Balcon Award for Outstanding Contribution to British Cinema from the British Academy in 1984; the Lifetime Achievement Award from the Directors Guild of Great Britain; the Lumiere Medal from the Royal Photographic Society (both in 1998); a CBE in 1995; a Knighthood in 2002 and the Bafta Fellowship in 2013.
He is survived by his wife Lisa Moran-Parker, his children Lucy, Alexander, Jake, Nathan and Henry, and seven grandchildren.