EXCLUSIVE: Wild Bunch is launching sales on Pan-Européenne-led production at Unifrance RDV in Paris.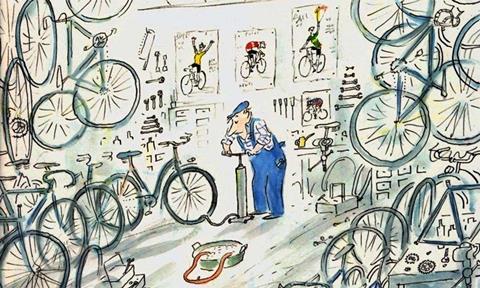 The UK's Altitude Film Entertainment has boarded French director Pierre Godeau's upcoming adaptation of Jean-Jacques Sempé's heart-warming tale Raoul Taburin.
Set against the backdrop of a small French town, the film will star Benoît Poelvoorde as the endearingly comic figure of Raoul Taburin, a reputed bicycle shop owner desperate to hide the fact he cannot ride a bike himself.
Altitude has pre-bought UK rights with company chief Will Clarke taking an executive producer credit.
The deal builds on a growing relationship between Altitude and Nathalie Gastaldo-Godeau and Philippe Godeau's Paris and London-based Pan-Européene which has developed since the couple moved to the UK in 2015.
Last year, the two companies entered a partnership for the UK release of Jérôme Salles's Jacques Cousteau bio-pic The Odyssey, under which the film will hit UK screens this June.
Discussions on Raoul Taburin grew out of that deal, says Clarke.
"We started talking about other projects they were working on. When they mentioned they were adapting Sempé's Raoul Taburin, I was immediately enthusiastic," recounts Clarke.
"I think they were surprised to find an Englishman who knew about Sempé but I love his work, from the Petit Nicolas books to his illustrations of New York."
"I ended up going on a journey with them, giving my thoughts on the screenplay, and helping them out in a small way from a producerial and UK perspective."
Wild Bunch co-chief Vincent Maraval has described the planned aesthetic for Raoul Taburin as a cross between Amélie, Little Nicholas, The Artist and the films of Jacques Tati with a stylised 1950s, 60s look.
"It's got a small town look and really fresh, French aesthetic reminiscent of Amélie and a broad appeal that I think will help it break out internationally in the same way," added Clarke.
Pan-Européene is lead-producing with Versus Production on board as a co-producer.
Cinematogapher Claire Mathon, whose credits include My King and Stranger By The Lake, is among the crew attached alongside Oscar-nominated editor Hervé De Luze (The Pianist). Guillaume Laurant, who co-wrote Amélie with Jean-Pierre Jeunet, wrote the screenplay.
The production is among half a dozen upcoming French-language titles being launched by Wild Bunch at this weeks Rendez-vous with French Cinema in Paris.