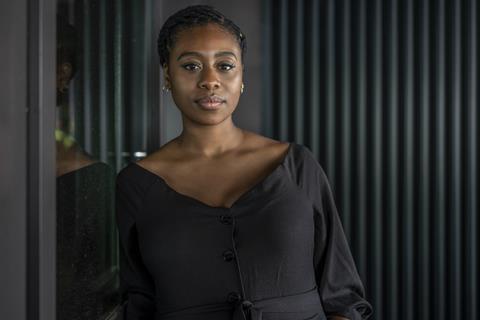 Amazon Studios and Paramount Pictures executives are among those selected for the 2021 Inside Pictures training and leadership initiative, run by the UK's National Film and Television School (NFTS).
The annual scheme has chosen 20 participants, representing 11 territories, from sectors including acquisitions, development, production, sales, distribution, finance, marketing, publicity, exhibition, legal and business affairs.
Scroll down for full list of participants
This year's industry mentor is Fiona Lamptey, director of UK features for Netflix, who will provide support and expertise to the producers and executives throughout the programme, which comprises three one-week modules spread across the next six months. The first two sessions will be delivered virtually while the third is hoped to take place physically, Covid-19 restrictions permitting.
The 2021 cohort includes Francesca Bianchini, a business affairs executive at Amazon Studios in Italy, and Nuala Duffy, a marketing manager for Paramount Pictures in Ireland.
Also selected is Ameenah Ayub Allen, a producer on Sarah Gavron's Rocks; Céline Coulson, a development and production executive at the UK's Film4; and Signe Byrge Sørensen, co-founder at producer at Denmark's Final Cut For Reel, who was Oscar-nominated for The Act Of Killing and The Look Of Silence.
Further participants include Thania Dimitrakopoulou, head of sales at leading German sales firm The Match Factory; Karoliina Dwyer, CEO of Nordic sales outfit The Yellow Affair; and Paula Alvarez Vaccaro, producer of Venice award-winner On The Milky Road and the founder of UK production company Pinball London.
A particular focus will be given to addressing the challenges and opportunities ahead within the international film business as it reassesses its direction and impetus amidst the pandemic.
Lamptey said of this year's intake: "After the unprecedented challenges we've all experienced together the last 12 months, this year's cohort will face an industry the shape of which is still only just emerging. Now more than ever it needs the exceptional practical preparation Inside Pictures offers its participants to empower them to lead the businesses, and invest in the talent that will redefine and shape that future."
Inside Pictures is supported by the EU's Creative Europe Programme and the BFI, awarding funds from the National Lottery.
Inside Pictures 2021 participants
Paula Alvarez Vaccaro – producer, screenwriter, partner, Pinball London (UK)
Ameenah Ayub Allen - producer (UK)
Francesca Bianchini - business affairs executive, Amazon Studios (Italy)
Signe Byrge Sørensen - co-founder and producer, Final Cut for Real (Denmark)
Céline Coulson - development and production executive, Film4 (UK)
Thania Dimitrakopoulou - head of sales, The Match Factory (Germany)
Nuala Duffy - marketing manager, Paramount Pictures (Ireland)
Karoliina Dwyer – CEO, sales and acquisitions, The Yellow Affair (Finland, US)
Heather Greenwood - senior executive, producer, Fulwell 73 (UK)
Venla Hellstedt - producer and partner, Tuffi Films (Finland)
Milena Hemmer - development executive, Tobis Film (Germany)
Sarah Mosses - founder and CEO, Together Films (UK)
Jennifer Naughton - partner and head of literary, RGM Artists (Australia)
Tracy O'Riordan – producer, Moonspun Films (UK)
Christelle Randall – founder, Christelle Randall PR (UK)
Martina Silcock – producer, Happy Outlier Pictures (US)
Dario Vecchiato - head of acquisitions and development, Gapbusters (Belgium)
Sophie Venner – producer, Taletime Pictures (UK)
Boštjan Virc – producer, Studio Virc (Slovenia)
Ginger Wilson – producer, Ginger Ink Films Africa (Kenya)