Amazon Prime Instant Video reversed declines during 2014 to reach 1.2 million UK homes this year - but it remains well behind rival VoD service Netflix, according to the latest Ofcom study.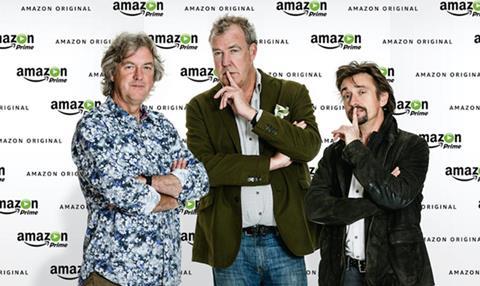 The £79-per-year VoD provider, which signed the former Top Gear team late last month, was subscribed to by 4% of UK households at the end of March 2015, according to the regulator's Communications Market Report.
Amazon had reached the same number of homes (1.2 million) in the first quarter of 2014 but lost ground over the year, falling to just over 1 million by December 2014.
Ofcom's report suggests this fall could have been due to its rebranding from Lovefilm during the period.
In contrast, Netflix has grown its paid subscriptions to 4.4 million households (16%) from 2.8 million (10%) 12 months ago.
Ofcom bases its figures on survey-based data drawn from a wide range of reports.
Subscribers to both services said access to films and TV back-catalogues was the primary reason to subscribe, with original series the 10th most-popular reason.
Less than one third of subscribers (31%) claimed to have watched original shows such as Netflix's House Of Cards via the OTT services.
Viewing of all VoD services, including broadcaster players, now accounts for 8% of total viewing - rising to 13% among 16 to 24 year-olds. iPlayer is the most widely used service, with 31% of adults accessing the BBC service in the past 12 months.
The average volume of live TV viewing has fallen for the second consecutive year to 193 minutes per person per day. This is down 12 minutes from the previous year and more than 30 minutes from its peak in 2010.
Time-shifting as a whole, including recorded viewing and seven-day VoD catch up, has grown by 1% to account for 12% of viewing.
Almost a quarter of TV watched by those aged 25 to 34 is time-shifted, as is one third of drama viewing, across all age groups.
The study found that viewing of short-form video is popular for a range of age groups, and smartphones are twice as likely to be used to watch video clips as full-length shows.
Almost one third of people (32%) claimed to access services such as YouTube daily, with the content considered an important source of information as well as entertainment.
Among those who watch shortform video, the average viewing time is 25 minutes per day - with men watching for twice as long as women.