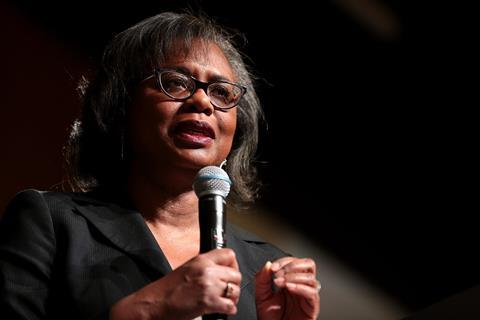 The Hollywood Commission into sexual harassment and equality chaired by American lawyer and academic Anita Hill is launching a repeat offender platform and bystander intervention training after announcing its first report.
The commission, founded by Kathleen Kennedy and Nina Shaw, on Tuesday (September 29) announced findings from an industry-wide survey that reveal a lack of perceived accountability for sexual misconduct.
The nationwide anonymous poll, conducted from November 2019–February 2020, reached 9,630 people who work, have worked, or are seeking work in the entertainment business.
It found the majority of those polled do not believe people in positions of power will be held accountable for their actions. Confidence drops off among women and traditionally under-represented groups.
Forty-five percent of men believe someone in power would be held accountable for harassing someone with less authority, compared to 28% of females.
White and Black or African American workers had the most favorable view of accountability (36% and 34% respectively). Among Hispanic, Latino or people of Spanish origin, 29% had a favorable view of accountability.
Among females, 29% of white women and 27% of Black or African American women had a favorable view of accountability, compared to 46% of white men and 50% of Black or African American men.
The report also noted how, three years after the #MeToo movement revival in October 2017, ongoing power imbalance at workplaces enables abuse to continue.
Less than half of workers (48%) who took the survey saw progress in addressing the imbalance.
The report said 23% of victims of sexual harassment shared their experiences with a supervisor, while 9% went to human resources, and 4% contacted the legal department.
Roughly two-fifths said reporting misconduct led to some form of retaliatory behaviour.
A beta version of the repeat offender platform will launch in the first quarter of 2021 and will enable workers who believe they have experienced harassment, discrimination or bullying to share their experiences anonymously.
If more than one person files a conditional report about the same aggressor, they will have the option to reveal their identity and take part in an investigation. Participating organisations will be announced at a later date.
The Commission is piloting bystander training with 450 workers in the entertainment industry.
Results and reports on bias, bullying, and progress since #MeToo with sexual harassment and assault will be made available in October.
"For too long in Hollywood, there have been 'open secrets' about the harassment perpetrated on workers by powerful people who are able to successfully evade accountability for their actions," said Hill.
"With this survey, we have identified the most vulnerable workers in Hollywood and the resources and systems that will provide support and a safety net for them. Our expectation is that these tools will be the foundation to build a new era of transparency and accountability for all workers in the entertainment industry."
To read the report visit the Hollywood Commission website.