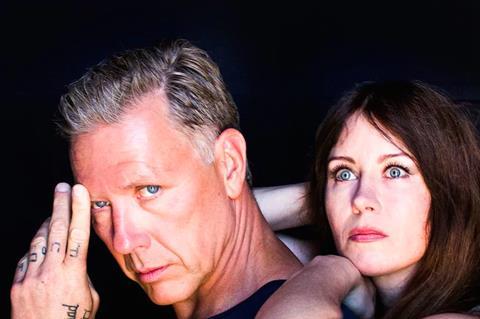 Provocative Swedish artist and filmmaker Anna Odell (The Reunion) unveiled footage from her forthcoming as-yet-untitled feature as part of the works in progress presentations at Goteborg's Nordic Film Market.
The idea for the project has been mostly under wraps, except that it was to star the director with Mikael Persbrandt. Frida Bargo and Matthias Nohrborg of Sweden's B-Reel produce and New Europe has come on board to handle international sales. The feature is editing now could be ready for summer/autumn. TriArt will release in Sweden.
"I worked with a mix of reality and fiction and what people believe about Mikael Persbrandt, who is Sweden's most famous male actor, and what people think about me as an artist known for doing things many people think you shouldn't do," Odell said in Goteborg on Saturday. "I do it because I want to show things in society and investigate what people think."
She continued: "In the film, I called myself The Artist and Mikael The Actor. The Artist and The Actor move into a big studio to start a deconstruction. In the film, we also cast actors that are our alter-egos. I have three alter-egos and Mikael has three, acting out different parts of us," she explained, before showing three short clips from the films.
"The film is about making a film, and also the process for the Artist working with the actors to make this script," she added. "They also push each other to do things that they may not have done in reality."
Another hot project previewed in Goteborg is Of Horses And Men director Benedikt Erlingsson with his "arthouse action thriller" Woman At War, about a middle-aged Icelandic woman who "wants to save the world, to save the highlands of Iceland and fight the capitalistic system. She has found a way to do it, she has set herself a task, she is a kind of one-woman green brigade attacking this system." But she has to question her priorities when she has the chance to adopt a Ukrainian girl.
Erlingsson said her dilemma is, "Do you save the world with heroic sacrifice or do you save the world by saving one child?" Beta handles sales and the film could be ready for delivery in May.
This year's crop of WIP filmmakers included anticipated films from a number of other established arthouse names such as Michael Noer with an 1850s-set Danish drama; actress/director Paprika Steen with a Christmas dramedy; and Bjorn Stein and Mans Marlind with a period romance.
Programmers and buyers were also keen on Jane Magnusson's new Ingmar Bergman documentary Bergman: A Year In A Life, being readied for his centenary this year; as well as Anne Sewitsky's Sonja Henie biopic, newly retitled Sonja: The White Swan. Full details on each project below.
Elsewhere, in the NFM's Discovery strand, several promising pitches included The Charmer director Milad Alami's new "mystery psychological thriller" The Opponent, which is at script stage now for a 2019 shoot. The film is about an Iranian man living in Sweden who is dealing with his complex past. "It focuses on masculinity, sexuality and violence," Alami said.
Norwegian sisters producer Nina Maria Barbosa Blad and director Liv Joelle Barbosa Blad charmed the industry attendees with a pitch about a coming-of-age story loosely inspired by their own family history, about a 13-year-old Norwegian girl on holiday in Spain experiencing first love while she suspects her father is having an affair. The sisters, whose new outfit Barbosa Film will co-produce with 4 ½ Fiksjon, said the film will have some similar themes and a sun-soaked visual style akin to Call Me By Your Name. It will shoot in autumn 2018.
The 17 Goteborg WIP 2018 projects are:
Swoon, dir Mans Marlind and Björn Stein, prod Kristina Aberg (Swe)
The Underworld: Awakening directors return to their Swedish roots to tell a period love story set against rival amusement parks. TrustNordisk handles sales.
Bergman, dir Jane Magnusson, prods Mattias Nohrborg, Fredrik Heinig, Cecilia Nessen (Swe)
For Bergman's centenary this year, Magnusson presents a new portrait of the master, looking in particular at his particularly prolific year of 1957. A four-episode TV version is also planned. The Match Factory handles sales.
Happy People, dir Samanou Acheche Sahlstrøm, prod Jakob Høgel (Den)
A couple grieve in different ways after losing their son. No sales attached yet.
The Human Part, dir Juha Lehtola, prods Mark Lwoff, Misha Jaari (Fin)
A bankrupt man deceives his family that he is a successful CEO. No sales attached yet.
One Last Deal, dir Klaus Haro, prods Kai Nordberg, Kaarle Aho (Fin)
An elderly art dealer and his grandson discover an underpriced painting at an auction. No sales attached yet.
That Time of Year, dir Paprika Steen, prod Mikael Rieks (Den)
A character-driven dramedy about a woman trying to hold it together at Christmas while surrounded by her complicated family. TrustNordisk handles sales.
Goliath, dir Peter Grönlund (Swe)
When his father goes to prison, a Swedish teenage boy is expected to take over his father's criminal affairs and responsibility for the family. Wild Bunch handles sales.
Stupid Young Heart, dir Selma Vilhunen, prods Venla Hellstedt, Elli Toivoniemi (Fin)
A teenage couple who are expecting a baby encounter a right-wing group in their multicultural neighborhood. No sales attached yet.
Phoenix, dir Camilla Strøm Henriksen, prod Gudny Hummelvoll (Nor)
A girl has to care for her unstable mother and wants to reunite with her father (played by Sverrir Gudnason). No sales attached yet.
Sonja: The White Swan, dir Anne Sewitsky, prod Synnøve Hørsdal (Nor)
A biopic (formerly titled Queen of Ice) of pioneering ice skater turned Hollywood star Sonja Henie, played by Ine Marie Wilmann. TrustNordisk handles sales.
Happy Ending, dir Hella Joof, prod Mie Andersen (Den)
A woman has to make a fresh start after splitting with her long-time husband. No sales attached yet.
Beware of Children, dir Dag Johan Haugerud, prod Yngve Sæther (Nor)
The 13-year-old daughter of a Labour politician accidentally kills the son of a right-wing politician. No sales attached yet.
The Deposit, dir Ásthildur Kjartansdóttir, prods Eva Sigurdardóttir, Ásthildur Kjartansdóttir (Ice)
Complications arise when an Icelandic woman rents out her spare bedrooms to two desperate immigrant women. No sales attached yet.
A Better Life, dir Michael Noer, prods René Ezra, Matilda Appelin (Den)
In rural 1850s Denmark, a farmer (Jesper Christensen) has to make an unbearable choice to protect his family. TrustNordisk handles sales.
A Stranger (Framling), dir Mikel Cee Karlsson, prod Erik Hemmendorff (Swe)
A film about the director's best friend, who lived a secret life. No sales attached yet.
Untitled Anna Odell, dir Anna Odell, prods Frida Bargo, Mattias Nohrborg (Swe)
Provocative artist/filmmaker Odell and actor Mikael Persbrandt play alter egos of themselves in this film that blends fiction and reality. New Europe handles sales.
Woman At War, dir Benedikt Erlingsson, prod Marianne Slot (Ice)
A woman decides to risk everything to save the Icelandic highlands from heavy industry. Beta Cinema handles sales.
In the co-funding platform Discovery, these nine upcoming projects in development were presented:
Burning Man, dir Itonje Søimer Guttormsen (Nor)
An Oslo artist works on a life-changing project.
Breeder, dir Jens Dahl (Den)
A woman discovers her boyfriend's horrifying sexual desires in this elevated horror film.
Dogborn, dir Isabella Carbonell (Swe)
Siblings who have escaped the Syrian war end up connected to a human trafficking ring.
One-Off Incident, various directors (Fin)
This shorts omnibus, directed by 10 women brought together by Finland's Tuffi Films, looks at the invisible use of power against women in private lives and society.
Forget Lucia, dir Hannaleena Hauru (Fin)
In a conservative Finnish town, young women discover they have pyrokinetic powers.
Let's Do Some Living In The Afterlife, dir Giovanni Bucchieri (Swe)
This doc-fiction hybrid is about an actor/musician remembering his great love.
Josefin and Florin, dirs Ellen Fiske, Joanna Karlberg (Swe)
A documentary love story about a single mother from Sweden and a beggar from Romania.
The Opponent, dir Milad Alami (Swe)
A psychological thriller about a couple seeking asylum who have to make a tough decision.
Valdesaz, dir Liv Joelle Barbosa Blad (Nor)
A 13-year-old Norwegian girl comes of age on a Spanish holiday with her family and friends.