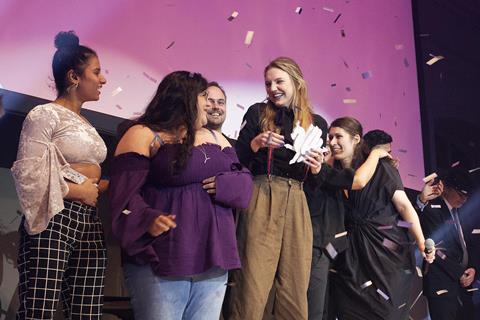 Gabriela Pichler's Amateurs won the Dragon Award for Best Nordic Film in Goteborg on Saturday night. The prize, one of the festival world's most lucrative at $126,000 (1m SEK), is financed by Volvo Car Group, Region Västra Götaland and the City Council of Gothenburg.
Amateurs, which had its world premiere as the opening film of Goteborg and has also screened in Rotterdam, was praised by the jury for "its vibrant, nuanced and intelligent portrait of a small town in contemporary Sweden, which embraces different generations, backgrounds and mediums."
The story is about the small town of Lafors, which wants to improve its fortunes by luring in a German discount supermarket. Local politicians ask teenagers to make short films to promote their hometown, with unexpected results.
Pichler also won the Swedish Church's Angelo Award.
A special mention went to What Will People Say by Iram Haq. That film also won the audience prize for best Nordic film.
This year's Dragon Award for best documentary, work SEK 100,000, went to Simon Lereng Wilmont for The Distant Barking of Dogs. A special mention went to My Heart Belongs To Daddy by Sofia Haugan.
The Ingmar Bergman award for best debut went to Menina by Cristina Pinheiro.
The Sven Nykvist Cinematography Award 2018 went to Sophia Olsson for The Charmer.
The FIPRESCI award went to Icelandic director Ísold Uggadóttir for And Breathe Normally. Uggadóttir recently won the world cinema best director prize at Sundance.
And the Best International Film prize – give for the first time this year – went to Men Don't Cry by Alen Drljevic.
The Honorary Dragon honours went to Juliette Binoche and Alicia Vikander.