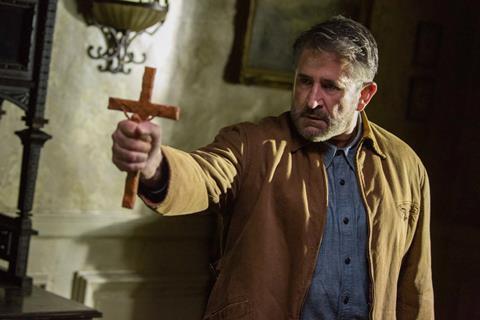 WARNER BROS PICTURES INTERNATIONAL
Annabelle: Creation grossed $42m from 13,209 screens in 56 international markets, bringing the international tally to $96.7m.
Annabelle: Creation finally becomes the top grossing international title following a three week run atop the international box office by Chinese action film Wolf Warriors 2.
Latin America captured 46% of the international box office with an estimated $19.3m for the region, which also has the second highest industry opening for a horror film behind The Conjuring 2.
Asia once again dominated with an estimated $11.5m for the region, ranking number one in the majority of markets.
Annabelle: Creation has already surpassed the lifetime gross of Annabelle in 24 markets including Russia, South Korea, Hong Kong, Indonesia, Holland, and Portugal. The horror sequel has also surpassed the lifetime gross of The Conjuring in 22 markets including Sweden, Hong Kong, Indonesia and South Korea.
Mexico produced $8m on 3,086 screens, which more than doubles the opening weekend of The Conjuring, and 14% ahead of Annabelle and only slightly behind that of The Conjuring 2.
The film debuted in India on $4.4m including previews from 1,159 screens, ranking number one over local film Toilet Ed Prem Katha. In India, the film has the highest opening ever for a horror film and the second highest Warner Bros opening weekend ever.
Brazil generated $4.4m from 1,263 screens, dominating the market at number one, while the film debuted at number one in the UAE on $1.1m from 65 screens, launching ahead of all the films in The Conjuring universe.
South Korea generated $2.2m from 549 screens in its second weekend for $12.5m, Indonesia produced $1.5m for $7.8m to rank number one. France added a further $1.5m for $5.1m, while the UK added $1.5m for $6.1m after 10 days. Australia generated $1.2m for $3.6m, Malaysia $1m for $3.9m, Russia $970,000 for $4.5m, and Italy $413,000 for $3.1m. Annabelle: Creation will open in Germany this week.
Christopher Nolan's Dunkirk grossed $8.4m from 5,000 screens in 61 markets, lifting the international total to $227.2m.
The UK dropped 30% from last weekend for $2.4m, while France box office dipped 35%, generating $906,000. Australia produced $886,000, dropping just 35%, while Holland produced $538,000, decreasing just 22% from last weekend.
The UK is the top grossing market on $63.8m, followed by South Korea on $21.5m, France $16.4m, Australia $16.4m, and Spain $8.8m. There are no new openings this week.
Bullyparade Der Film grossed $4.5m in Germany from 670 screens, ranking an emphatic number one with 55% market share. This represents the best opening weekend for a local production since 2015.
CHINA UPDATE
Jing Wu's Wolf Warriors 2 grossed $36m over the weekend. The action film now stands at $772m and is the first non-Hollywood film to enter the top 100 box office films of all time.
Wilson Yip's Paradox, with action direction by Sammo Hung, grossed $31m. The action film now stands at $40.5m.
Louis Koo stars as a police negotiator who travels to Bangkok to search for his teenage daughter. Yue Wu, Max Zhang, and Ka Tung Lam also star.
UNIVERSAL PICTURES INTERNATIONAL
Universal crossed $3bn at the international box office on Friday as Illumination's Despicable Me 3 grossed $8.4m in 58 territories this weekend and raised the international total to $696.7m. Combined with North America's $251.7m, the worldwide total has reached $948.4m.
Internationally, the Despicable Me franchise on $2.428bn passed the Ice Age franchise gross of $2.427bn on Sunday to become the highest grossing animated film franchise of all time at the international box office.
On August 6, the Despicable Me franchise passed the Shrek series to become the highest grossing animated film franchise worldwide. In Japan, Despicable Me 3 ranks number two in its fifth weekend as $2.3m boosted the total to $50.1m. It is the highest grossing Illumination film of all time in the market.
China added $237,000 for a total of $151.9m (1.03bn RmB). It is the second highest grossing animated film of all time in China behind Zootopia ($235m). The UK has reached $56.7m; Germany $39.5m; Brazil $38.7m; France $37.7m and Mexico $34.8m. The animation will debut in Italy and Turkey this week.
Atomic Blonde grossed $5m in 45 Universal and Sierra/Affinity territories this weekend to raise the international total to $26m. When combined with $47.2m in North America, the film stands at $73.2m worldwide.
Charlize Theron's spy thriller debuted in France on $1.5m,·while Italy generated $816,000 for first place. Belgium produced $238,000 and French-Switzerland produced $97,000.
The film opens in Germany, Austria, German-Switzerland, Central America and Trinidad this week.
Girls Trip grossed $1m in five territories for an international total of $10.6m and $114.6m worldwide. The female-driven comedy held strong at number six in week on $780,000 for a 24-day total of $8.9m.
Trinidad generated $122,000 for $618,000 and held at number one for the third week in a row ahead of the opening of Annabelle: Creation. This week, the film opens in Australia, New Zealand and Romania.
The Beguiled added $700,000 in 11 territories, which raises the international total to $6.1m. Combined with $10.6m from North America, the worldwide total stands at $16.7m.
Spain generated $532,000 at 190 dates, placing number five with the best screen average in the market. Elsewhere, Brazil generated $130,000 at 60 dates for a total of $368,000. Next weekend the film opens in France, Middle East, Thailand and Uruguay.
FOX INTERNATIONAL
War For The Planet Of The Apes added $20.5m from 6,873 screens in 47 international markets. The film stands at $205m internationally. South Korea generated $11.4m in week one, enough to become Fox's biggest opening in 2017 so far. France decreased 39% from last weekend, generating $2.6m for $18m, while Brazil and Germany dropped 35% and 43%, respectively, in their third weekend of release.
Captain Underpants: The First Epic Movie grossed $2m from 2,173 screens in 15 markets. The international total stands at $24.7m, with eight additional market releases set for this week. Mexico is the top grossing market on $1.8m, followed by the UK on $8.2m.
SONY PICTURES RELEASING INTERNATIONAL
The Emoji Movie brought in $11.5m this weekend from more than 7,400 screens in 51 markets for an international total of $53.6m. The animation debuted at number one in Russia on $2.5m from 2,050 screens, which is 34% ahead of Smurfs: The Lost Village.
Europe held strong over the weekend, dropping 28% as a region. The Netherlands and Finland saw an 8% drop in box office results from last weekend, while the UK saw an 11% drop. Brazil will be the next market to release on August 31.
The Dark Tower added $7.5m from 44 total markets for a running international total of $30.2m. The film debuted in the UK on $1.1m, in Australia on $1.1m and in Spain on $805,000. The Stephen King adaptation debuts in Brazil, South Korea, and Mexico this week.
Spider-Man: Homecoming added another $5m from 3,100 screens in 64 markets. Sony and Marvel's reboot stands at $410.8m internationally with China set to release on September 8. Japan produced $2.3m from 779 screens in its second weekend, down 44%, for $16.8m.
Baby Driver added $3.7m from 46 total markets for $73.4m. Edgar Wright's crime thriller debuts in China and Russia this week.
WALT DISNEY STUDIOS MOTION PICTURES INTERNATIONAL
Cars 3 grossed $4.2m over the weekend, lifting the international running total to $159.5m and the worldwide total to $308.3m.
Disney and Pixar's animation debuted in Indonesia over the weekend on $900,000 including previews, making it the third highest Pixar opening weekend and already exceeding the entire run of Cars and Cars 2.
Cars 3 saw strong holds in markets like Finland, where box office increased 5% over last weekend, and the Netherlands and the UK, where it dropped only 3% and 22%, respectively. Mexico remains the top market on $15.6m, followed by Japan on $14.9m and France $13.9m. The film opens in China and Malaysia this week.
PARAMOUNT PICTURES INTERNATIONAL
Transformers: The Last Knight grossed $1.7m in 29 markets, lifting the international total to $471m. Japan produced $856,000 at 335 locations for $13.1m.
Al Gore's documentary sequel An Inconvenient Sequel: Truth To Power grossed $314,000 in three markets including new openings in the UK and Singapore. The film now stands at $463,000 internationally.