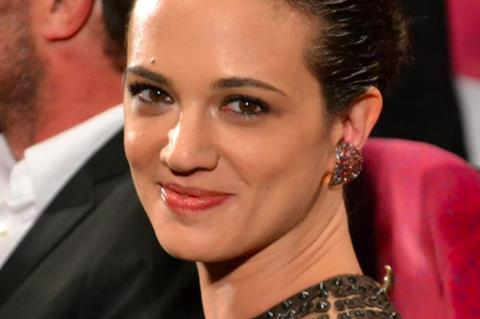 Former child actor and musician Jimmy Bennett has spoken out about his allegation of sexual assault by Asia Argento and said he had been "ashamed and afraid" to speak publicly until now.
One day after Argento denied any sexual relationship with Bennett, the youngster, who claims the Italian actress and filmmaker sexually assaulted him in a Los Angeles hotel room five years ago when he was a 17-year-old minor, has come forward for the first time.
Meanwhile the website TMZ has published a photograph that appears to show Argento and Bennett lying down together. LA County Sheriff's Department said this week it was trying to reach Bennett to discuss his allegations.
In a statement released to the media on Wednesday (August 22) Bennett said: "Many brave women and men have spoken out about their own experiences during the #metoo movement, and I appreciate the bravery that it took for each and every one of them to take such a stand," s "I did not initially speak out about my story because I chose to handle it in private with the person who wronged me. My trauma resurfaced as she came out as a victim herself.
"I have not made a public statement in the past days and hours because I was ashamed and afraid to be part of the public narrative. I was underage when the event took place, and I tried to seek justice in a way that made sense to me at the time because I was not ready to deal with the ramifications of my story becoming public.
"At the time I believed there was still a stigma to being in the situation as a male in our society. I didn't think that people would understand the event that took place from the eyes of a teenage boy. I have had to overcome many adversities in my life, and this is another that I will deal with, in time. I would like to move past this event in my life, and today I choose to move forward, no longer in silence."
On Tuesday Argento denied any sexual relations with Bennett, who played Argento's young son in her 2004 drama The Heart Is Deceitful Above All Things.
Furthermore Argento claimed she did not settle with Bennett out of court last year, although she did say her late partner Anthony Bourdain made a payment (believed to be $380,000) to Bennett to avoid negative publicity.
Argento has been one of the leading lights of the #MeToo movement and has accused Harvey Weinstein of rape. Her fellow #MeToo advocate Rose McGowan said her heart was broken when the Bennett allegations emerged last weekend.
This week Weinstein's attorney Ben Brafman released a fiercely worded statement in which he referred to "a stunning level of hypocrisy by Asia Argento, one of the most vocal catalysts who sought to destroy Harvey Weinstein." Weinstein has denied all non-consensual sex.