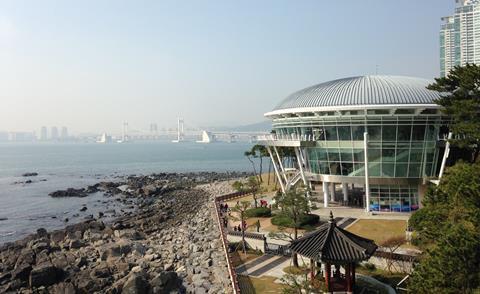 Representatives from the Korean Film Council (KOFIC) and several other Asian government agencies met in Busan today to discuss the establishment of a pan-regional film support and development organisation, the Asian Film Center.
KOFIC is in the final stages of securing government funds of around $1m (KW1bn) to kickstart the center, with future funding tentatively coming from a 3% levy on cinema ticket sales.
Its four main areas of operation would be Asian film policy research, including development of a pan-Asian film industry database; promotion of Asian films, including distribution support; educational initiatives across filmmaking and technical infrastructure; and programmes to support production, including the launch of a film fund.
Kicking off the round table discussion at APEC House, Busan mayor Oh Keo-don said: "Asian cinema has seen huge development in recent years and become a pillar of world cinema. To solidify this status, we need to cooperate closely and continuously. We have a dream to make Busan the Cannes of Asia, but we can't do that by ourselves – we need your support to raise the profile of Asian cinema globally."
Other attendees at the meeting included Singapore Film Commission head Joachim Ng; Mary Liza B. Dino, head of the Film Development Council of the Philippines (FDCP), Kapt Khir Mohd Noor, president of Malaysia's Profima; Elaine Tan, executive director of the ASEAN Foundation; and representatives from the governments of Myanmar, Laos, Brunei and Cambodia.
KOFIC chairperson Oh Seok Geun talked of the need for cooperation between Asian film industries, which are based in countries at very different stages of economic development: "To ensure movies in Asia can grow collectively, KOFIC saw the need to discuss and plan our actions as a group."
Some of his suggestions included screening programmes to introduce Asian audiences to each other's films and culture; restoration programmes along the lines of Martin Scorsese's World Cinema Project; and cooperation between film schools across Asia.
Highlighting the extent to which Asian film industries are at different stages of development, Vongchit Phommachack from the Laos Ministry of Information, Culture and Tourism explained how his country of 7 million people still only has 12 cinemas. Delegates from Brunei described how they are at the very beginning stages of building a national film industry.
SFC's Ng suggested the Asian Film Center could become a platform where "those who can help [other Asian film industries] can help, and those who need help can come and get it." He explained how a joint initiative between Singapore and the Philippines to share a booth at Cannes, not only saved money, but also gave "a message to the world that we want to work together".
South Korea has historically been one of the most proactive Asian countries in terms of government policies and incentives to support its local film industry, with much of that activity now centred in the city of Busan.
KOFIC recently moved its headquarters to Busan, also home to the Busan International Film Festival (BIFF) and Busan Asian Film School, which focuses on training for producers and international co-production. While no decisions were taken during the round table, it's likely that the Asian Film Center would also be headquartered in Busan.
Oh Seok Geun, who was appointed KOFIC chair in January 2018, was formerly head of the Busan Film Commission, where he helped launch the Asian Film Commissions Network (AFCNet).
However, acknowledging the complex politics of the region, Oh also said that "Korea has had difficult relations with China and Japan". There were no delegates at the meeting from either nation. He said he hoped to engage both countries, as well as India, Indonesia and Thailand, also absent from today's round table, at future meetings.
If all goes to plan, the Asian Film Center would be launched in 2019 and be followed six years later with a pan-regional body tentatively titled the 'Asian Film Orgnization' in 2025. Follow-up meetings to today's round table are scheduled for later in 2018.